Photo Gallery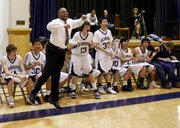 Seabury Academy vs. Topeka Cair Paravel
Photos from the Seabury boys basketball team's senior night contest against Topeka Cair Paravel on Thursday, February 18, 2010.
The Topeka Cair Paravel defense gave Seabury Academy senior Bill Gibbs little trouble Thursday night.
The senior speech he was scheduled to give as part of the post-game Senior Night festivities, however, proved a bit more challenging.
"It wasn't something I was looking forward to," said Gibbs, who finished with a game-high 23 points in a 70-52 Seabury boys basketball victory. "But it's tradition, so it's something I was going to do."
The speech — which turned out to be very eloquent, by the way — marked a satisfactory conclusion to a night meant to honor the team's three out-going seniors (Gibbs, Dan Simons and Jungwon Seo) — although it didn't come without an early dose of drama.

Despite handling Cair Paravel with ease in the teams' first meeting this season, Seabury came out a bit shaky in the first half of Thursday's game, missing its first six three-point attempts and turning the ball over six times during a particularly lackluster second quarter in which the Seahawks were outscored by five and entered halftime facing a three-point deficit.
That's about the time Gibbs took over the game, doing a little bit of everything — driving to the basket, hitting outside shots, finding open teammates — to help spark the Seahawks' offensive attack out of intermission.
Motivated by a rough first half (2-of-9 shooting) and a rather intense desire not to come up short in the final home game of his career, Gibbs finished with 12 third-quarter points on 5-of-9 shooting and was the primary reason Seabury was able to build a 51-42 lead after three quarters — a lead the Seahawks would continue to build upon in the final eight minutes.
"My shot wasn't falling in the first half, so I knew I had to come out and get to the basket," Gibbs said. "I definitely made getting deeper in the paint a point in the second half."
Added Seabury coach Mike Harding, "When he's aggressive like that, we're a whole different ball team."
In the end, Seabury (11-4) won by doing what it usually does: Pushing the tempo, forcing turnovers, keeping its opponent from getting comfortable offensively. The Seahawks shot 15-of-25 from the field in the second half, converting a number of steals into easy baskets, and got significant contributions from junior forwards Reed Grabill and Skyler Malone, who finished with 22 and 14 points, respectively.
Next week, Seabury will turn its attention to the regional tournament, where, following a first-round bye, the Seahawks play the winner of Wetmore-KSD at 6 p.m. on Thursday in Elwood.
Copyright 2018 The Lawrence Journal-World. All rights reserved. This material may not be published, broadcast, rewritten or redistributed. We strive to uphold our values for every story published.