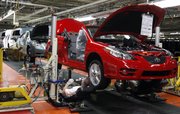 Washington — The government ordered Toyota to turn over documents related to its massive recalls Tuesday, pressing to see how long the automaker knew of safety defects before taking action. Toyota, concerned about unsold cars, said it would temporarily idle some production in three states.
The Transportation Department is demanding that Toyota reveal when and how it learned of problems with sticking accelerators and with floor mats trapping gas pedals, and the company must respond within 30 to 60 days or face fines. Those defects and problems with brakes on new Prius hybrids have now led to the recall of 8.5 million vehicles.
The intensifying investigation and the production halts at Toyota's assembly plants are fresh signs of the ripple effect the recalls are having on the world's No. 1 automaker — even as car-owners are streaming to dealers for fixes. Toyota faces separate probes by the Obama administration and Congress as it struggles to maintain its loyal customer base and its reputation for safety and quality.
Toyota said it was halting production temporarily in San Antonio, Texas, and Georgetown, Ky., to address concerns that too many unsold vehicles may be building up at dealerships because of the large recalls.
Company spokesman Mike Goss said the Texas plant, which builds the Tundra pickup truck, would take production breaks for the weeks of March 15 and April 12. The Kentucky plant, which makes the Camry, Avalon and Venza vehicles, plans to take a non-production day on Feb. 26 and may not build vehicles on three more days in March and April.
Toyota employs 1,850 workers at the San Antonio plant and about 6,600 at the Georgetown facility. None will be laid off during the production interruptions.
In late January, Toyota halted production of recalled brands throughout the United States for about a week.
The demands from the government for information, similar to a subpoena, follow criticism from consumer groups that the Transportation Department has been too soft on automakers and has failed to fine the companies or seek detailed information through legal powers.
Transportation Secretary Ray LaHood has defended his department's handling of the Toyota investigation, calling the Japanese automaker "a little safety deaf" about the problems. LaHood said the government urged Toyota to issue recalls and sent federal safety officials to Japan to warn company officials of the seriousness of the problems.
LaHood has said the government is considering civil penalties for Toyota over its handling of the recalls. The maximum fine is more than $16 million. The largest auto industry fine came in 2004, when General Motors paid $1 million for responding too slowly on a recall of nearly 600,000 vehicles over windshield wiper failure.
Under federal law, automakers must notify the department's National Highway Traffic Safety Administration within five days of determining that a safety defect exists and promptly conduct a recall.
Copyright 2018 The Associated Press. All rights reserved. This material may not be published, broadcast, rewritten or redistributed. We strive to uphold our values for every story published.