Photo Gallery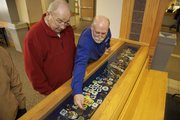 Jayhawk memorabilia collection
Hundreds of Jayhawk items are going up for auction after being displayed for the past three years at the Kansas Union.
After he sold his house to his son, Bud Jennings needed something to do with all his Jayhawks.
Now retired, the 80-year-old longtime Lawrence carpet store owner has brought his flock of more than 1,000 Jayhawks to the Kansas Union, where they're on display on the second and fourth floors.
The many statues and sculptures are made from metals such as bronze and copper and other more unusual materials, such as acrylic. Many of the statues have historical significance — he has an early model KU art professor Elden Tefft used to create the iconic statue in front of Strong Hall.

Other items have a whimsical flair. There's the rare full bottle of "Jayhawk" soda, bottled in Ottawa decades ago. In the fourth floor display, among fundraising pins and other small items, sits what Jennings called "the smallest Jayhawk in the world."
It's resting on the head of a penny, its features just barely visible inside the glass case. If you look hard enough, you can make out the letters "KU" painted on its chest, Jennings said.
"I wanted a good place to put them," he said. "This is as good a place as I'd ask for."
Mike Reid, director of marketing services for the KU Memorial Unions, said the collection at one point could have landed in Allen Fieldhouse, but wound up in the union because of all the foot traffic there.
"We've had a great reaction from people," Reid said, saying he's seen people of all ages stop at the display and read about some of the historical pieces.
Jennings started collecting when he was a child — he's pretty sure he was given his first Jayhawk from someone working in Fowler Shops, a building that housed shops for lathe, wood burning, forge and casting equipment. Today, the building still exists as Stauffer-Flint Hall, home to KU's journalism school.
He said he doesn't quite know why he settled on collecting Jayhawks over, say, baseball cards, coins or stamps.
"I honestly couldn't tell you," he said. "I just got to doing it, I guess. More so in the later years than my earlier years."
He estimates he's spent more than $100,000 on his collection over the years.
"I got to the point that I'm not buying it unless it's really out of the ordinary," he said.
The display will be in the union for at least three years, Reid said, and a fundraising drive is ongoing to raise enough so that the union can keep it permanently.
Copyright 2018 The Lawrence Journal-World. All rights reserved. This material may not be published, broadcast, rewritten or redistributed. We strive to uphold our values for every story published.