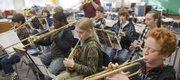 With a $4 million budget deficit growing to $5 million, the likelihood of school closings seems to be increasing.
On the street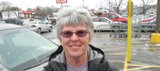 I know that the budget situation is dire. I would hope they could do what they can without closing neighborhood schools.
A group of parents who don't want the Lawrence school board to close any elementary schools because of a $5 million budget deficit came out in force again at a public forum at Southwest Junior High School on Monday night.
And one parent said the discussion about budget cuts was framed incorrectly because talk of closing schools came up so early.
"We're coming up with ideas. I think more of the community could be coming up with ideas if they were feeling equally pinched," said Josh Davis, a New York School parent.
The school board is considering several options to slash the district's budget before next school year because of the state's budget crisis and an increase in health insurance costs.
Scott Morgan, the board president, said he originally mentioned closing schools to illustrate "everything was on the table" when he found out how deep the cuts would have to go.
"People reacted strongly. It's not necessarily what I wanted them to do, but it's what I wanted them to know," Morgan said.
Board members have received a list of administrative, classified staff and program cuts that total about $3 million, including cuts to school nurses, guidance counselors and librarians. They have also discussed increasing the student-teacher ratio, which saves roughly $1 million at each increase of one student. It would cut about 20 teaching positions at each increase as well.
Administrators have said closing an elementary school would save between $400,000 to $600,000 each.
A group, Save Our Neighborhood Schools, has said the district — without closing schools — has budget options to save $5 million through accounting efficiencies and other changes, such as reducing the number of administrators at the high schools.
Most of the speakers at the forum in west Lawrence urged the board not to close schools, saying it would affect neighborhoods, particularly in east Lawrence.
A few others voiced concerns that a higher student-teacher ratio would make classes even more crowded at the larger elementary schools, such as Sunflower School in west Lawrence. One parent urged the board to keep in mind how the private sector would operate in tough times.
In response, Nancy Hamilton, a Hillcrest School parent opposed closing any elementary schools, said, "Our kids aren't widgets."
Jill Fincher, a Sunflower parent and site council member, said she wanted the crowd to think about what services could be cut if no schools were closed.
"I understand that by not closing schools we're talking about buildings without libraries, without nurses, without counselors, with fewer teachers, and I don't know that that's a picture that I'm comfortable with either," she said.
Monday's public forum was the second of four; the next ones are 7 p.m. March 1 at Central Junior High and 7:30 p.m. March 2 at West Junior High.
Board members are expected to brief city and county commissioners about their budget situation during a joint meeting at 5 p.m. today at City Hall.
Copyright 2018 The Lawrence Journal-World. All rights reserved. This material may not be published, broadcast, rewritten or redistributed. We strive to uphold our values for every story published.