How KU compares to other Big 12 campuses
Using data from the U.S. Department of Education, these are the total number of robberies reported on Big 12 campuses for 2006-2008. Data from 2009 was not available for schools other than KU.
School - Robberies - Enrollment
Texas - 31 - 47,344
Colorado - 16 - 30,196
Missouri - 11 - 31,314
Texas Tech - 9 - 30,049
Texas A&M; - 7 - 5,153
Nebraska - 4 - 24,100
Oklahoma - 4 - 24,728
Iowa State - 3 - 27,945
Kansas - 3 - 26, 826
Kansas State - 2 - 23,581
Baylor - 1 - 14,614
Oklahoma State - 0 - 22,844
As Kansas University student Kyle Rhodes walked home from a party last September, a group of people approached him in an alley near Ohio Street.
"I felt something cold at my head," Rhodes said.
It was a gun.
Someone told him not to move, forced him to the ground and stole his wallet.
That robbery — an experience Rhodes described as "terrifying" — was just one of an increasing number of similar crimes in the area. A Journal-World study of the 224 robberies reported to Lawrence and KU police between 2007 and 2009 found:
• The number of robberies reported in 2009 increased by about 20 percent from 2008 and 2007.
• On average, the number of robberies increased from about 52 a year between 2000 and 2005 to more than 77 between 2006 and 2009.
• The use of guns increased from 16 in 2007 and 11 in 2008 to 27 in 2009.
• Robberies have increased from 11 in 2007 to 27 in 2009 in an area near downtown bordered by Sixth, 14th, Rhode Island and Mississippi streets.
Not only was Rhodes a robbery victim, but he's also a typical Lawrence robbery victim: He's under age 25 and was robbed late at night.
In the cases in which information about victims was reported:
• Nearly half of victims were younger than 25.
• 72 percent were men.
• 57 percent of robberies occurred between 11 p.m. and 4 a.m.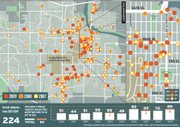 Police response
The upward trend in robberies is a quality-of-life concern in Lawrence, said Sgt. Bill Cory of the Lawrence Police.
"Any increase is not a good increase," he said. "We like to think that Lawrence is a great place to live."
Cory said local police are aware of when and where Lawrence robberies are most common, and they monitor those trends to customize police patrols.
About this project
During summer 2009, it appeared Lawrence was becoming the place for robberies.
Nearly every weekend brought another report of someone in our community being victimized.
Those reports led to questions about whether robberies were increasing in Lawrence, as well as the circumstances of such crimes. In order to understand the answers to these questions, the Journal-World filed Open Records requests with the Lawrence police and Kansas University's Department of Public Safety, seeking reports of all robberies reported in the past three years.
Here is how each agency responded and how accessible such records are to the public:
• Lawrence police provided the requested information free of charge by releasing the police report numbers for all cases. Those numbers were then used to search the Lawrence police online database. All crime reports can be accessed by the public at www.ci.lawrence.ks.us/police.
• KU estimated the cost of providing the reports for 11 campus robberies at more than $300, which was cost-prohibitive for this project. KU Public Safety's Web site, however, does provide much of the information on daily crime logs, which can be viewed at ku.edu/~kucops.
Not all information about each robbery was available. In some cases, information was missing from the police report, or the information was protected because of an accompanying sexual assault or domestic violence crime.
"We do keep track of these things," he said. "We proactively investigate these things."
However, Cory did not specify whether police compile crime maps, nor did he provide other details about how police monitor local crime trends.
Last year, reported robberies at KU spiked to the highest number in more than 10 years, with eight reported to campus police. The increase in robbery reports led to patrol changes on campus, said KU Public Safety Captain Schuyler Bailey. Campus police began focusing more on areas where previous robberies had occurred. This move has led to "no additional robberies" in those areas, he said.
Tips for reducing the likelihood of being robbed
Sgt. Bill Cory of the Lawrence Police Department and Captain Schuyler Bailey of the KU Public Safety Office said education and awareness are the keys to reducing the likelihood of being robbed.
They offer these tips:
• Walk on lighted sidewalks.
• Avoid alleys and stay on the main roads when walking at night.
• Use campus services, such as SafeRide (864-SAFE), or call a friend instead of walking home from a bar.
• Be aware of your surroundings and walk with your head up.
• Don't take unfamiliar shortcuts.
If you are a robbery victim, Lawrence police Sgt. Bill Cory said you can help police if you:
• Get the best possible description of the robber or robbers. Any details can help.
• Call police as soon as possible.
• Be aware of exactly where you are so police can respond quickly.
Arrest rates
According to the Kansas Bureau of Investigation, an arrest was made for only 40 percent of robbery reports made to Lawrence police between 2006 and 2008. While that might not be comforting to victims, the Lawrence police arrest rates for robbery per incident is significantly higher than statewide numbers:
• Between 2006 and 2008, a total of 213 robberies were reported and 86 arrests were made for robberies in Lawrence, or 40 percent.
• Statewide, for the 5,517 reports of robbery made to police, there were only 1,051 arrests, or 19 percent.
Just a note on those statistics: One person might be arrested for more than one robbery, or multiple people can be arrested for one crime.
Of the eight robbery reports made to the KU Public Safety in 2009, arrests have been made in five cases, Bailey said. In one of the other cases, police determined that the robbery did not actually occur on campus.
Why more robberies?
With Lawrence seeing double-digit increases in robbery reports between 2008 and 2009, as well as sharp increases over the past decade, is the bad economy to blame?
Criminologist Richard Rosenfeld, from the University of Missouri-St. Louis, said years of study closely match robberies with tough economic times.
"During downturns we do see an increase in crimes like these," Rosenfeld said.
But with so many factors associated with crime rates, it's impossible to specifically say crime has increased in a certain area, such as Lawrence, because of the economy.
"It's hard to know," Rosenfeld said.
While Lawrence has seen an increase, Rosenfeld said that nationally robberies rates are a "mixed bag," with some larger cities even seeing decreases.
The bad news, said Rosenfeld, is that it takes time for crime rates to increase after economic downturns, meaning robberies could continue to increase locally.
"There's typically a lag, sometimes a year," he said.
Personal safety
Regardless of police presence, there's simply too much area to cover for local police to prevent all robberies in Lawrence, Cory said.
He advises an increased awareness of the prevalence of local robberies and some personal safety tips that can help people reduce the likelihood of being victimized.
For Rhodes, the robbery was a wake-up call about walking alone at night in Lawrence, something he no longer does.
"It helps me in a way to be more cautious," he said.
Copyright 2018 The Lawrence Journal-World. All rights reserved. This material may not be published, broadcast, rewritten or redistributed. We strive to uphold our values for every story published.