-->
Audio Clips
KU-ISU basketball
Photo Gallery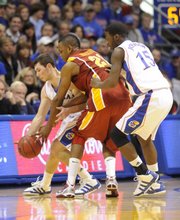 KU vs. Iowa State
It happens from Miami to Seattle, from Orono, Maine, to San Diego and every college basketball town in between.
Team applies full-court pressure for a short stretch, and it's wildly effective. Coach takes calls on his weekly radio show from loyal supporters. Maybe it's the first call, maybe the second. Sometimes it's not until the third call, though it seldom takes that long.
"Loved your full-court press the other night," the call starts.
The coach smiles and looks at the radio host. Both men know what's coming next: "Any chance you could do that for 40 minutes? Seems like every time you do it, it works great."
Often, the press comes at the end of the game, against a team attempting to protect a lead, which makes it low-risk because the team doesn't try to attack it to score.
Kansas often presses after made free throws, but the way the Jayhawks did it Saturday for a short stretch had more of a punch to it.
When the full-court pressure was turned up Saturday night in the second half of Kansas University's 73-59 victory against Iowa State, the Cyclones melted.
It started Kansas on the way to a 14-0 run.
Iowa State coach Greg McDermott called a timeout nine points into the run and no doubt reviewed how to break the pressure, knowing it probably was in vain. Once the press-break is set up, the other coach takes it off, thereby ensuring the reeling coach had just wasted a timeout.
Even after the full-court pressure was scaled back, the run continued, reaching 21-3.
"It's kind of funny," KU's Marcus Morris said of the way that works. "That's what we look for, try to speed them up a little, try to get a few steals, and then when they think we're going to continue, just pull it off."
Kansas was playing sluggishly, and Iowa State had drawn within two points. It was time for a change-up to bring the Jayhawks out of hibernation.
"We work on pressing just in case we want to go to it," Morris said. "It's rare we bring it out in games. We do it to try to get a few steals, try to get a few open dunks to get us going."
The less it's used, the better it works because of the surprise element.
Marcus and Markieff Morris, Xavier Henry, Tyrel Reed and Tyshawn Taylor were in the lineup when Self ordered his men to put the Cyclones under the heat lamps.
"You can't give people the same dose of everything all the time," Self said. "At least I never thought you could. You pick your spots when you have momentum and things. Tonight we did get a couple of steals off it, which led to easy baskets."
Self has the players to apply full-court pressure and the discipline not to overuse it. That formula has helped him to win 400 times.
"A great time to press is when you get a transition basket, and they just take it out real quick, throw it in, and you hit 'em right then because they're not prepared in their press offense," Self said. "The hardest time to press is when they're set up. Out of a timeout, you know they're organized, so you can do it, but you don't want to put yourself in a situation where they break it and they have 3-on-2 behind you. We're still not a pressing team, but we did do some things tonight to create some tempo."
Copyright 2018 The Lawrence Journal-World. All rights reserved. This material may not be published, broadcast, rewritten or redistributed. We strive to uphold our values for every story published.