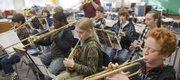 With a $4 million budget deficit growing to $5 million, the likelihood of school closings seems to be increasing.
Recent Lawrence school board meetings and public forums have featured some tense moments amid discussions of cutting school programs, increasing class sizes, offering fewer courses, laying off teachers and even closing schools.
The board is working to trim $5 million from its 2010-2011 budget because of decreases in funding from the state of Kansas, as well as increases in costs, such as health insurance policies.
"We know what the community doesn't want us to do, which is everything that's on our list," said Scott Morgan, the board's president.
But all too soon, board members must make tough decisions — and likely make many people unhappy.
Here's a look at some issues the board is weighing.
What major options have come up?
Administrators have presented cuts in three major areas. Board members could approve a combination of the three, try to avoid some of them or add something else to the list.
• Program cuts — Administrators last Monday ranked $3 million worth of school program, administrative and classified staff cuts into four tiers. The first tier — most recommended — includes a $250,000 cut to district administration and support. Other options further down the list include fewer guidance counselors, school nurses and library services, for example.
• Student-teacher ratio — The district would need about 20 fewer teaching positions each time the ratio jumped by one student. The drawbacks are larger classes and fewer courses to offer. Increasing the ratio by one student would save $1.1 million, and a three-student increase would save $2.9 million. Some parents voiced concern over classes being too large if the district does not close any schools.
• Closing schools — This option has gained the most vocal public opposition, including creation of an organization called Save Our Neighborhood Schools. More than 30 people spoke against the option at a board meeting last week. Administrators have said closing one elementary school would save $400,000 to $600,000.
Has the district considered across-the-board pay cuts?
Superintendent Rick Doll last week said that it would take a 6.15 percent pay decrease for all district employees to save $4 million. However,the school board doesn't have unilateral control over teachers' pay because their salaries are negotiated every year during contract talks.
But Doll said board members could still consider pay cuts for administrators and classified employees to find some savings.
Does Save Our Neighborhood Schools also have a plan for saving money?
Yes. The group says the district could save $4.9 million to $5.5 million without closing any schools.
The plan includes $2.2 million to $2.5 million in program cuts that administrators have identified. Group members say the district should increase the student-teacher ratio by one student and assess noncore secondary school programs to save an additional $1.5 million. Due to the number of teacher retirements, district officials say the loss of teaching jobs would be marginal if the ratio increases by one student.
Save Our Neighborhood Schools also proposes $750,000 to $1 million in accounting and administration "efficiencies." The list of possible savings includes $100,000 for eight summer furlough days for administrators; $300,000 by having one junior high school and elementary school share a principal; $200,000 to eliminate two assistant high school principals; and $50,000 by lowering thermostats in the winter.
Raquel Alexander, a parent and assistant Kansas University business professor, said the district could save $1 million if it stopped using its general operating fund for certain student materials. She said money for that should strictly come from the "student materials revolving fund," which is funded by fees.
The group says the district can also collect $500,000 or more in extra revenue through certain fee increases and a $200,000 fundraising campaign.
Doll said district officials were evaluating the group's proposal.
Why can't the district sell land it owns and raise money that way?
State law requires districts to generally keep two separate pots of money — one for operating expenses and another for capital expenses to fund buildings, equipment and furniture. If the district sold any real estate it owned, including school buildings, it could only use the money for its capital budget instead of funding general operations, said Frank Harwood, the district's chief operations officer.
If the district closes a school, where do the savings come from?
The savings mostly come from the positions the district no longer needs, like a principal, counselor, librarian, etc. Doll said some teachers could be cut because the district has room in some schools for students.
How much money did the district cut going into this school year? What got cut?
Board members have cut $2.5 million already. It included $320,000 at district headquarters by eliminating and consolidating positions and a $433,000 cut to custodial services. The district also stopped bus service for all students who live less than 2.5 miles from school, which saved $450,000.
What happens now?
Board members will conduct the second of four planned public forums about the budget at 7 p.m. Monday at Southwest Junior High School, 2511 Inverness Drive. Morgan said that at the Feb. 22 board meeting he will try to get board members to voice their opinions on what type of cuts they're leaning toward so the public can then respond.
"There's a lot of things we need to look at, but we need to start naming names and letting the community know where we're actually going instead of where we might go," Morgan said.
Copyright 2018 The Lawrence Journal-World. All rights reserved. This material may not be published, broadcast, rewritten or redistributed. We strive to uphold our values for every story published.