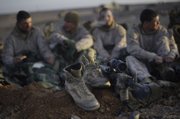 Outskirts of Marjah, Afghanistan — U.S. Marines and Afghan troops faced rocket and heavy machine-gun fire from insurgents entrenched inside a Taliban-held town today, as a long-expected offensive began to re-establish government control.
The assault on Marjah is the biggest offensive since the 2001 U.S.-led invasion of Afghanistan and will serve as a major test of a new NATO strategy focused on protecting civilians. The attack is also the first major combat operation since President Barack Obama ordered 30,000 U.S. reinforcements here in December to try to turn the tide of the war.
Detecting multiple layers of insurgent defenses encircling the city, Cobra helicopters fired Hellfire missiles at tunnels, bunkers and other defensive positions. Militants also flooded the main canal at the town's entrance, making it more difficult for U.S.-led forces to enter on foot.
Marine commanders had said they expected between 400 to 1,000 insurgents — including more than 100 foreign fighters — to be holed up in Marjah, a town of 80,000 people in Helmand province. Marjah, 360 miles southwest of Kabul, is the biggest southern town under Taliban control and the linchpin of the militants' logistical and opium-smuggling network.
Sporadic rocket fire from insurgents and the rattle of gunfire echoed in the air. A U.S. missile detonated a massive 55-gallon fuel-drum bomb that sent a mushroom of black smoke dozens of yards into the sky.
Helicopters carrying hundreds of U.S. Marines and Afghan troops swooped into town under the cover of darkness early today with a ground assault of thousands of additional forces expected to follow.
"The first wave of choppers has landed inside Marjah. The operation has begun," said Capt. Joshua Winfrey, commander of Lima Company, 3rd Battalion, 6th Marines, which was at the forefront of the attack.
The operation, code-named "Moshtarak," or Together, was described as the biggest joint operation of the Afghan war. Maj. Gen. Nick Carter, commander of NATO forces in southern Afghanistan, said 15,000 troops were involved, including some 7,500 troops fighting in Marjah.
To the north, British, American and Canadian forces struck in the Nad Ali district in a push to break Taliban power in Helmand, one of the major battlefields of the war.
In a village north of Marjah, residents said they heard gunfire before dawn but then it went quiet. Abdul Manan, a farmer in the village of Saipo, said he finally decided to risk going out of his house and saw American troops walking by. They told him to go back inside.
Taliban militants who had been in his village two days ago disappeared. "I don't see any Taliban now. I see Americans," he said by phone.
Once the town is secured, NATO hopes to rush in aid and restore public services in a bid to win support among the estimated 125,000 people who live in Marjah and surrounding villages.
The Afghans' ability to restore those services is crucial to the success of the operation and to prevent the Taliban from returning.
Tribal elders have pleaded for NATO to finish the operation quickly and spare civilians — an appeal that offers some hope the townspeople will cooperate with Afghan and international forces once the Taliban are gone.
Copyright 2018 The Associated Press. All rights reserved. This material may not be published, broadcast, rewritten or redistributed. We strive to uphold our values for every story published.