Athletes from more than 80 countries worldwide will be competing in the 15 sports events of the 2010 Winter Olympics in Vancouver.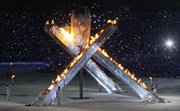 Vancouver, British Columbia — In time-honored tradition, the show went on.
Despite the training-run death earlier in the day of a luger from the country of Georgia, the Olympics' opening ceremonies unfolded in a mostly jubilant atmosphere, with an upbeat crowd filling BC Place Stadium.
The festive mood, including a snowboarder's leap through giant Olympic rings, contrasted sharply with the grief that befell the games earlier in the day when luger Nodar Kumaritashvili died in a horrific crash on the sliding track at Whistler.
The ceremonies were dedicated to Kumaritashvili, and a moment of silence was observed in his memory. The seven remaining members of the Georgian team, who decided to stay and compete, wore black armbands as they marched behind a black-trimmed flag. Most of the crowd rose to give respectful applause.
International Olympic Committee president Jacques Rogge and the top Vancouver organizer, John Furlong, urged the athletes to compete in Kumaritashvili's honor.
"May you carry his Olympic dream on your shoulders and compete with his spirit in your heart," Furlong said.
More than 60,000 people packed into the stadium for the evening extravaganza, the first Olympic opening or closing ceremony ever held indoors. The loudest ovation came midway through, when the red-clad Canadian team entered the stadium as the last contingent of the parade of nations.
In the end, the flame lighting didn't go off as planned. The climax of the ceremony called for the Olympic cauldron to be lit jointly by four Canadian sports heroes — all-time hockey great Wayne Gretzky, skier Nancy Greene, speedskater Catriona LeMay Doan, and basketball All-Star Steve Nash. But one giant component out of four failed to rise from the stadium floor, and LeMay Doan was unable to use her torch.
Later, a second, far larger cauldron was to be lit by Gretzky in a plaza along the downtown waterfront — giving Vancouver a visible symbol that the indoor stadium could not provide.
Rain was forecast through the weekend in Vancouver, with high temperatures near 50 degrees, prompting some to dub these the Spring Olympics. Rain also has disrupted Alpine skiing events at Whistler.
Copyright 2018 The Associated Press. All rights reserved. This material may not be published, broadcast, rewritten or redistributed. We strive to uphold our values for every story published.