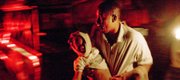 A 7.0 magnitude earthquake occurred 10 miles southwest of Port-au-Prince on Jan. 12, causing widespread devastation in Haiti's capital and throughout the country.
Topeka — Thirty-nine Kansas National Guard airmen are scheduled to return home today from Haiti, where they have been helping with post-earthquake recovery.
Seven other Kansas Guard members will remain in the Caribbean nation to continue working on infrastructure projects.
More than 200,000 people died in the magnitude-7 earthquake that struck Haiti on Jan. 12.
The airmen were from the 190th Civil Engineering Squadron and the 184th Civil Engineering Squadron.
Among their duties in Haiti was assembling an emergency hospital in the capital of Port-Au-Prince.
Copyright 2018 The Associated Press. All rights reserved. This material may not be published, broadcast, rewritten or redistributed. We strive to uphold our values for every story published.