Spend a day at Health Care Access and you quickly see the need for health care reform.
Health Care Access is a Lawrence clinic that provides medical care for low-income Douglas County residents who do not have health insurance.
The need for the clinic's services continues to grow. It served 1,431 patients last year, a 62 percent increase since serving 886 patients in 1992 when it moved to 1920 Moodie Road.
On Tuesday, the nonprofit clinic will open in a much-needed bigger location at 330 Maine, across the street from Lawrence Memorial Hospital's emergency room.
Before packing up, the clinic's staff allowed me to spend a day — Feb. 9 — at the clinic.
Executive Director Nikki King has told me the approximately five appointments left open daily for acute care are filled within 10 minutes. She wasn't kidding. Two employees handle those calls when the clinic opens its phone lines at 8:30 a.m. They sit at adjacent desks, so they don't accidentally book the same open slot. Today, six appointments are open.

Maria Kerby is the office manager, and Pam Holden, medication coordinator, is there to help her out. They are among the clinic's seven full-time and two part-time employees.
8:10 a.m. — The first patient is waiting outside in her vehicle.
8:31 a.m. — Maria answers the phone, "Health Care Access, please hold," and hits a button. She answers another call, "Health Care Access, please hold," and hits a button. She answers another call, "Health Care Access, please hold," and hits a button. Soon, all five lines are lit with a red light.
8:36 a.m. — All of today's acute appointments are filled.
8:39 a.m. — Maria turns away the first caller seeking acute care. She provides references to five other clinics — all will require a fee unless it is an emergency, unlike Health Care Access. The clinic has a $10 fee, but doesn't turn anyone away who can't afford it. On this day, many couldn't.
I visited with as many patients as possible. Only one declined an interview. Their ages ranged from 26 to 51. They were mothers, grandmothers, daughters and fathers.

I found they had several things in common. They had no health insurance and couldn't afford insurance. They also were ashamed about accessing the clinic, but were very grateful.

Despite a bitter cold, snowy day, no one misses an appointment.
8:46 a.m. — Three patients are in the waiting room. One is a single, 31-year-old Lawrence woman, who has been unemployed for about a year. She has a follow-up appointment for depression. It took two months to get the first appointment. The high school graduate, who mostly has worked in call centers, hasn't had health insurance for about four years.
Photo Gallery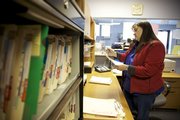 A day at Health Care Access
Health Care Access, is a Lawrence clinic that serves low-income, uninsured Douglas County residents. It opened in 1988 and the next year is served 324 people. In 1992, the clinic moved to 1920 Moodie Road and it served 886 patients. In 2009, the clinic served 1,431 patients. On Tuesday, it will open in a bigger space at 330 Maine, across the street from Lawrence Memorial Hospital. Here are some images from the clinic's last day — Feb. 9, 2010, on Moodie Road.
-->
9:55 a.m. — A 30-year-old single mother, of Lawrence, waits to get test results with her 9-year-old son, who receives health care through the state's HealthWave program. She works full time at a Lawrence massage business, which doesn't offer health or dental insurance. She hasn't had health insurance since May when she worked another job. It took $100 per month out of her paycheck.
"It was tight, but it beat not having it," she says.
She estimated it would cost $300 a month for insurance and that wouldn't include co-pays and prescriptions.
"I've already cut back on everything else," she says. "I can't cut anymore."
10:10 a.m. — 30-year-old Louis Shannon, an employee at Kansas University, says he hasn't had health insurance "for years." He was referred to the clinic from a doctor at Lawrence Memorial Hospital. He was at the clinic for a post-surgical checkup.
10:15 a.m. — Tracy St. Clair, 44, of Lawrence, is in pain and can barely sit straight as she waits to see a nurse. St. Clair initially injured her back 10 years ago, and now has degenerative disc disease. She had an asthma attack last weekend that triggered the pain. She tried to get an acute appointment at 8:34 a.m. Monday, but was too late. She is employed, but can't afford the insurance her job offers, which doesn't cover prescriptions she needs. Her husband is unemployed and uninsured. St. Clair has been using Health Care Access about four years.
"I tell everybody about this place because there are a lot of people going without and don't realize there is a place like this," she says.
10:40 a.m. — A 53-year-old grandmother, who works two jobs in nursing care, waits to get her foot looked at. She thinks it might be broken and has waited more than a month before seeking care.
"I can't take it anymore," she says.
It is her first visit to the clinic because she can't afford more medical bills elsewhere; she owes about $15,000.
She has pre-existing conditions, which makes health insurance unaffordable. She also is taking care of her grown son, his wife and 13-month-old child.
"I can't let them go hungry," she says. "I work every day — seven days a week — and still can't afford insurance."
The last time she had health insurance was in 2003.
10:50 a.m. — 46-year-old Lawrence resident William Miller is unemployed and also hurting from back pain.
"Without Health Care Access, I would be laying in bed hurt — big time," he says.
He doesn't remember ever having health insurance. Miller has worked at many places that don't offer insurance. Today, he can't afford the $10 fee.
"I am sick about it," he says. "But, they don't hassle me about it."
11 a.m. — Gloria Mooney, 35, of Lawrence, is picking up paperwork about her 43-year-old husband's heart problems. He works, but his employer doesn't offer health insurance. She's unemployed. She can only chuckle when I ask, "When was the last time you had health insurance?"
"Oh my gosh," she says. "It's been forever. About 13 years."
Gloria and her husband have been using the clinic since.
"He (her husband) would probably be dead now if it wasn't for this place," she says.
They looked into buying insurance, but estimate it would cost $700 a month.
11:10 a.m. — A 44-year-old Eudora resident, who is self-employed, says she hasn't had health insurance since 1991 when she worked another job. She went years without medical care until her husband lost his job in October, and then she qualified for Health Care Access. Today, she is getting blood work and thyroid medicine. She also has scheduled a mammogram.
The couple looked into insurance, but it would cost about $600 a month.
"I didn't want to make another house payment," she says.
To qualify for the clinic's services, people must live in Douglas County. They can't have any type of health insurance or resource such as Medicaid or student health services. They can't have a gross income of more than 185 percent of federal poverty level guidelines. That's about $20,000 for a single person or about $40,800 for a family of four. Nearly three-quarters of Health Care Access patients are at 100 percent of the poverty level — so they make $10,830 or less. That's $22,000 for a family of four.
New tenants sought for vacated clinic
The future of the Health Care Access building, 1920 Moodie Road, soon will be up for grabs.
City commissioners on Tuesday are expected to issue a request for proposals on how the city-owned building can be used now that Health Care Access is moving to a new location near Lawrence Memorial Hospital.
City staff members have said the building is not well-suited for city office space, and are recommending that the commission receive proposals from nonprofit agencies that may have a use for the building.
The city could choose to sell the building, but because it was built using federal community development block grant money, the city would have to reimburse the federal program about $75,000.
Commissioners meet at 6:35 p.m. Tuesday at City Hall, Sixth and Massachusetts streets.
12:30 p.m. — Staff members eat lunch at desks scattered in a room, where the nurses work. We chit-chat about the benefits and frustrations of their jobs. Taking part in the conversation are Maria, Pam; Melynda Swoyer, a nurse practitioner student; Jeri Safarik, registered nurse; and Lori Winfrey, clinic manager.
They say they aren't going to get rich by working at a nonprofit, but the work is rewarding because most patients are appreciative.

But, it's not easy to provide such services.

They are constantly thinking about costs when trying to get patients the treatment they deserve. They make numerous phone calls to find health professionals who might offer tests, medicine or surgery for free or at a reduced cost. Fortunately, 100 doctors do, and only two do not live in Lawrence.

Last year, the clinic provided about $4 million in care and $450,000 in medication.
1 p.m. — Dr. Marc Scarbrough, a hospitalist at Lawrence Memorial Hospital, arrives to volunteer.
1:25 p.m. — Maria turns away the third walk-in visitor seeking an appointment that day.
1:40 p.m. — A 43-year-old Lawrence woman visits the clinic for the first time. She was referred by a Kansas City hospital. She lost her job in April, but can't remember the last time she had health insurance. She recently graduated from Fort Scott Community College's Harley-Davidson Training Center in Pittsburg.
2:20 p.m. — Emily Hanks, 27, of Lawrence, is waiting for test results. Two weeks ago, she became very ill and had a 102 degree temperature.
She has been using the clinic for about five years. She works at two part-time jobs that don't offer health insurance.
Emily says heat, electricity and food come before health insurance.
"It's not a priority and I know that worries my parents," she says.
3:05 p.m. — I have to wait to get back into waiting room because a nurse is weighing a patient next to the door.
The staff is looking forward to its new home because it will be about twice the size. There will be 11 clinic rooms instead of six, although today they are using just four. They aren't using the "makeshift" clinic rooms that are divided by just curtains. They hope more doctors, like Scarbrough, can volunteer because they will be closer to LMH and medical offices.
3:10 p.m. — Five patients are waiting. It is so quiet that you can hear the clock ticking, which makes it difficult to interview patients about personal matters.
3:25 p.m. — Sally Zogry, development director, goes over plans for the clinic's biggest fundraiser, a marathon on April 18, with Ryan Robinson, race director. They have 458 people registered for the day's races — a 5K, half marathon and full marathon.
The clinic's budget is $479,000 this year. About half of the money comes from city, county, state and United Way of Douglas County. The other half is from grants, fundraisers and donations.
3:40 p.m. — Natalie Hamilton, 46, is self-employed and can't afford insurance. She has been using the clinic since 1998 — the last time she had insurance.
"Luckily, I don't get sick," she says.
Hamilton doesn't use the clinic unless she has to and says she is apt to "let things go."
4:10 p.m. — Anthony Carter, 26, is checking out. He is a manager at a fast-food restaurant that doesn't offer insurance. He has used the clinic for about four years.
"If it wasn't here, I would be in a bind," he says.
4:20 p.m. — I visit with Dr. Scarbrough before he leaves. He says it's difficult when he can't prescribe the best treatment for a patient.
"I have to think, 'Is the plan that I would really like to do going to be feasible, affordable, and is it really going to happen? How long does it take?' For example, if they need a colonoscopy, say for bleeding or chronic diarrhea, and some of the practitioners will donate a colonoscopy, but only do one a month. How long is it going to take? Can we get them in? Those are some of the challenges that we face here."
4:45 p.m. — Natalie, the last patient of the day, leaves after making a follow-up appointment and paying the $10 fee. Maria follows and locks the door. She organizes the waiting room and shuts off the light.
5:15 p.m. — Two nurses — Jeri and Betsy McCafferty — are calling patients and giving them test results. Jeri informs someone that his or her blood pressure was high.
There's a pause and then, she chuckles.
"Maybe, you should eat fewer homemade cinnamon rolls," she advises.
The clinic serves 22 patients today and turns away so many that Maria couldn't keep track.
Copyright 2018 The Lawrence Journal-World. All rights reserved. This material may not be published, broadcast, rewritten or redistributed. We strive to uphold our values for every story published.