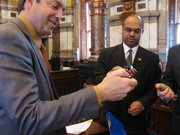 The Kansas Senate on Thursday approved a bill that would ban so-called novelty cigarette lighters.
The measure was approved 32-8 without debate and sent to the House for consideration.
State Sen. Oletha Faust-Goudeau, D-Wichita, authored Senate Bill 342, saying that the lighters, which often look like cartoon characters or household items, are too attractive for children.
State Health Officer Jason Eberhart-Phillips also testified in favor of the bill.
Copyright 2018 The Lawrence Journal-World. All rights reserved. This material may not be published, broadcast, rewritten or redistributed. We strive to uphold our values for every story published.