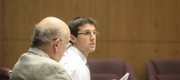 More coverage of the trial of a former Kansas University student accused of beating and kidnapping his ex-girlfriend.
A Douglas County judge on Thursday declined to grant a new trial for a former Kansas University student convicted in a brutal attack on his ex-girlfriend in 2007.
Matthew Jaeger was back in a Douglas County courtroom Thursday, where his attorney argued his client was denied his right to a fair trial.
"A new trial is required if it is in the interest of justice," defense attorney Pedro Irigonegaray told the judge. "The overwhelming facts mandate that in the interest of justice a new trial be granted."
Jaeger was convicted of kidnapping, aggravated battery and making a criminal threat in August, but not before a juror was dismissed for misconduct.
The juror was removed after admitting he conducted his own investigation, re-enacting the defense theory that the victim, who suffered serious injuries to her external vaginal area, was injured when she fell on a bed rail.
Irigonegaray argued that the juror was the only one who believed Jaeger was not guilty and that the other jurors forced him out so they could reach a verdict.
"There is certainly evidence from which to conclude that the 11 had decided to shove (the juror in question) out of the boat," Irigonegaray argued in his motion for a new trial. "The facts demonstrate that the 11 found a way to resolve the deadlock."
Judge Robert Fairchild said the situation was handled correctly and did not have an impact on the remaining jurors.
The defense also claims there were several other reasons for a new trial, including insufficient evidence presented during the trial to convict Jaeger.
Irigonegaray told the judge, not once during the trial did the prosecution present any evidence proving that Jaeger caused the victim's injuries, nor that he took her by force from her apartment.
"There are a lot of red flags here," Irigonegaray said. "Red flags that indicate the evidence is not beyond a reasonable doubt."
The defense claims the judge made errors during the trial by dismissing several jurors outside the presence of the defendant. Three jurors were dismissed when Jaeger wasn't present, but prosecutor Jason Hart argued that occurred as the jurors were being assembled, not during the jury selection phase of the trial.
The judge disagreed with all but one of the issues raised by the defense.
Fairchild said he wanted more time to review court transcripts before ruling on the defense argument that they were improperly restricted from fully questioning the victim relating to her credibility.
Fairchild will make a written ruling on that issue.
Jaeger remains in custody in the Douglas County Jail awaiting sentencing. He could spend more than four years in prison.
Copyright 2018 The Lawrence Journal-World. All rights reserved. This material may not be published, broadcast, rewritten or redistributed. We strive to uphold our values for every story published.