There's nothing quite like the Douglas County Relay for Life, an annual fundraiser for the American Cancer Society.
The event involves luminarias, camping, food, walking around a track, games, music and more.
There are times of sadness. For example: seeing hundreds of luminarias that line the track in memory of those who lost their battle with cancer.
Photo Gallery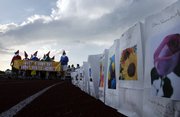 2009 Relay for Life of Douglas County
But mostly, there is joy. There's nothing like cheering for the cancer survivors as they walk the first lap around the track to kick off the event.
Relay for Life involves teams of eight to 15 participants who take turns walking around a track for 12 hours. Teams may camp out while activities go on throughout the night. The event celebrates cancer survivors, supports current patients and remembers loved ones. It also raises money for the fight against cancer.
Plans are already under way for this year's event, which will be June 11.
Organizers will be providing information and signing up teams from 5 p.m. to 7 p.m. Tuesday, Feb. 23, in the library at Free State High School, 4700 Overland Drive. It's on a drop-in basis.
Last year's event drew about 700 participants and raised $170,000 for the American Cancer Society. It was the largest relay event in Kansas.
For more information, contact Stacie Schroeder at 800-359-1025 or Tina Yates at 785-749-2985.
Copyright 2017 The Lawrence Journal-World. All rights reserved. This material may not be published, broadcast, rewritten or redistributed. We strive to uphold our values for every story published.