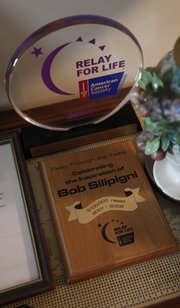 Money raised for Relay for Life
This year's Relay for Life of Douglas County raised $172,000 for the American Cancer Society, which was $11,000 less than the record amount raised in 2008.
But, organizers collected more than a ton of nonperishable goods for local food pantries for the first time.
During this year's event, Lawrence resident Bob Silipigni was honored for raising more than $100,000 during the past nine years.
This year, he raised a record $23,775 and collected donations for 230 of the approximately 4,000 luminaries that surrounded the South Junior High School track. Here's what he has raised:
2001 - $1,516
2002 - $4,211
2003 - $7,285
2004 - $8,774
2005 - $11,575
2006 - $14,347
2007 - $15, 630
2008 - $19,253
2009 - $23,775
Total - $106,366
Lawrence resident Bob Silipigni is doing extraordinary things to fight cancer and help provide services for people suffering from the disease.
For the past nine years, he has been knocking on doors to collect money as part of Relay for Life of Douglas County, an event that raises awareness and money for the American Cancer Society. He does it in memory of his mother, Flora Silini, who watched her brother and father die from the disease.
"I found that, unfortunately, so many people have a family member with cancer or have been affected by it, that it wasn't that hard to find people that I could relate with," Silipigni said.
This year, he began fundraising Feb. 20.
"I went at it three to five hours a day, seven days a week for three and half months," said Silipigni, an Amway Global distributor. "I only took two and a half days off and even on those days, I took care of some donations that came through the mail."
That dedication paid off.
He raised $23,775. That's $19,000 more than the next-highest fundraiser, and there were 716 people who participated.
"He takes his fundraising like it's his job," said Stacie Schroeder, community manager of development for the American Cancer Society. "He is the most dedicated individual I have ever met in my entire life. He just doesn't stop."
A milestone
At this year's Relay for Life event on June 12, he was recognized for raising more than $100,000 since 2001.
"Although my mother did not pass away from cancer, when I did it, I made sure to have a luminary made for her, too," Silipigni said. "I wanted her and all of my relatives to be there. I paid for several luminaries. Unfortunately, I've lost a couple of friends over the last few years and I made sure they were there with me, too.
"I made it a special time."
While it's a lot of work, Silipigni said the achievement is not his alone.
"I did this because of my determination, but also I did it because of the generosity of the people of Lawrence, Kansas," he said, pointing to 94 sheets of paper that contained the 1,410 names of donors.
While Silipigni often was turned down, it was the kind and caring gestures of others that kept him going.
"People have been so kind, like on Mother's Day this year. This one family — they were making the entire block smell good because of their cookout. I complimented them on it, and those rascals, they not only gave me a donation, they gave me a plate to go," he said. "It's things like this that help to keep me going."
New friendships
Over the years, he has consoled residents who lost loved ones to cancer, sparked new friendships and even received a dog.
"About four or five years ago, a gentleman was not able to make a donation. They were strapped and they had a bunch of Yorkies," Silipigni recalled.
Silipigni mentioned he had been a German shepherd-kind-of guy until he got a Yorkshire terrier. The man handed the 7-month-old puppy to Silipigni.
"I will tell you — I needed a third dog like I needed another hole in the head, but I took her," Silipigni said, laughing.
When Silipigni goes out to collect donations, he carries an American Cancer Society brochure and the number for the Better Business Bureau. Often people don't have money to give on the spot, so he provides an envelope with his address and number. If someone sends money, he calls and thanks them.
Jeanne Klein, Lawrence, has donated for years.
"Bob's a great guy," she said. "We have fabulous conversations, and I think that really is his big secret to success. He gets to know you on a personal level, and he remembers who you are and he remembers what you are interested in."
For example, Silipigni, a baseball fan, knows Klein rooted for the Detroit Tigers in 1968. So, each year he gives her a baseball card from 1968. She has no idea where he gets them; he tells her they are extras.
"It's fun to have them," she said.
Tim and Joy Towle, of Lawrence, also have gotten to know Silipigni. The first year, they gave him a small donation and had a chitchat. Now, he is invited inside for a drink and the conversation lasts at least 45 minutes.
"We talk more each year and always end up giving him a bigger donation," Joy said, laughing.
Silipigni has checked into where the money that he raises goes.
"I thought they did a good job of satisfying my inquiries, and they even told me of the locations here in Kansas where $3 million in research had gone the year before," he said.
Each year, he tries to top the year before. This year proved tough with the economic downturn. He heard stories of job losses and people just trying to make ends meet. For the first time, he carried a Ziploc bag because he was getting more coin donations.
"People just didn't have as much money around the house," he said.
Regardless, Silipigni raised $4,522 more than last year.
"When I finally stopped just a little over two weeks ago, I actually kind of hit a depression. It's strange," he said.
New beginnings
But he's not yet making plans for next year. Silipigni, who says he quit tracking his age at 40, said he hopes he will be healthy enough to do it. He said fundraising for an illness such as cancer makes him appreciate life.
He reluctantly agreed to an interview for this story.
"One of the things that does concern me is that we have to realize that even when this article is published in the Journal-World, there are going to be people who are suffering with health issues as they read it and terminally ill people as they read it, and here I am going to be in the spotlight, and I can't say that I am comfortable with that because everyone has their story."
Silipigni would rather have the spotlight on the disease that kills thousands each year, the cancer survivors and the hundreds who made donations.
"He doesn't want a lot of recognition, but you know, he deserves it," said Lori Kloepper, a Lawrence cancer survivor. "He really does."
Copyright 2018 The Lawrence Journal-World. All rights reserved. This material may not be published, broadcast, rewritten or redistributed. We strive to uphold our values for every story published.