Photo Gallery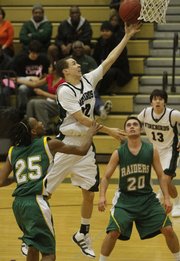 Free State boys vs. Shawnee Mission South
Scoreboard be damned, Free State boys coach Chuck Law walked away from Tuesday's loss to Shawnee Mission South feeling good about his team's combined effort.
"Best game we've played all year," Law said. "In terms of execution and carrying out a game plan, it was the best we've played."
Putting the ball in the basket, however, was another story.
Free State connected on just 14-of-37 field goals, including 1-of-12 from three-point range, and only one player — Eric Watson — managed to score in double-figures.
Still, the Firebirds (6-9, 2-4 in the Sunflower League) managed to overcome a 22-14 halftime deficit to pull to within two possessions late in the fourth quarter. But a pair of key turnovers within a two-minute stretch allowed the Raiders (9-5, 4-2) to pull away.
"If you're going to beat a team like that, you've got to make crucial plays," said Law, whose team will play host to Olathe Northwest at 7:30 p.m. on Friday. "And we just did not do that."
Copyright 2018 The Lawrence Journal-World. All rights reserved. This material may not be published, broadcast, rewritten or redistributed. We strive to uphold our values for every story published.