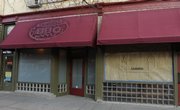 A longtime vacant piece of ground near one of Lawrence's gateways may become home to a new hotel.
City planners have received a rezoning request that would open the door for a new hotel to be built on property immediately south of Lawrence's Hallmark Cards plant and near the west Lawrence exit of the Kansas Turnpike.
"We think a hotel at the entrance of the city and right off the interstate makes a lot of sense," said Paul Werner, a Lawrence architect who is working on the project for the owners of the property, which is a development group led by members of the Fritzel family.
Werner said details about what particular brand of hotel is interested in the site have not become available. He said the Fritzel family would not be the developers of the hotel, but rather would simply sell the ground for the project to proceed.
He said real estate agents working on the property have indicated the project would be about 65 rooms and likely be designed to attract both tourists and motorists off of Interstate 70. Werner said the project would not be seeking direct access onto McDonald Drive, a busy road that leads to the turnpike toll booths.
City commissioners are being asked to approve a rezoning and a change in the city's development code to allow the project. The developers are seeking about 3.5 acres to be rezoned from general industrial to limited industrial. They also are asking for a change in the development code that would allow hotels as a permitted use in the limited industrial zoning category.
Planning commissioners could hear the rezoning request in March.
In other development news:
• All indications are that the former Vermont Street BBQ location, 728 Mass, will become home to a new bar. City commissioners have received and approved a drinking establishment license for Tonic to operate at the location. According to the application, Jon Davis, a Lawrence businessman who has been involved in the operation of multiple Lawrence bars, is the proprietor of the new business. A sign recently was installed in the window of the building — still under renovation — advertising it as the Mass. St. Pub.
There's no word on whether food will be served at the location. Multiple attempts to reach Davis for comment this week were unsuccessful.
Copyright 2018 The Lawrence Journal-World. All rights reserved. This material may not be published, broadcast, rewritten or redistributed. We strive to uphold our values for every story published.