Haiti developments
A look at the latest developments in Haiti on Tuesday, 28 days after a 7.0-magnitude earthquake devastated the capital, Port-au-Prince.
• Death toll: Haiti's government raises estimate on deaths caused by Jan. 12 quake to 230,000 — the same death toll as the 2004 Asian tsunami — and says the number of dead is expected to rise as more bodies are counted. The previous death toll was 212,000.
• Day of mourning: Haitian government declares Friday a public holiday to give the nation a chance to mourn and "pay homage to the innumerable victims of the earthquake, many buried in anonymity."
• Mystery patient: Doctors work on a man who two Haitians say had been trapped by debris since the Jan. 12 earthquake. The account couldn't be confirmed, and doctors say the patient may have been provided food and water during his reported ordeal.
• South American support: South American presidents meeting in Quito, Ecuador, pledge to help Haiti by sending construction equipment to build new houses and schools, agricultural and educational experts, and cargo ships loaded with food.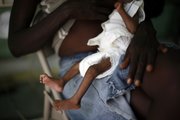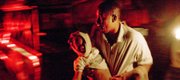 A 7.0 magnitude earthquake occurred 10 miles southwest of Port-au-Prince on Jan. 12, causing widespread devastation in Haiti's capital and throughout the country.
Photo Gallery
Earthquake strikes Haiti
Port-au-Prince, Haiti — Fourteen-month-old Abigail Charlot survived Haiti's cataclysmic earthquake but not its miserable aftermath. Brought into the capital's General Hospital with fever and diarrhea, little Abigail literally dried up.
"Sometimes they arrive too late," said Dr. Adrien Colimon, the chief of pediatrics, shaking her head.
The second stage of Haiti's medical emergency has begun, with diarrheal illnesses, acute respiratory infections and malnutrition beginning to claim lives by the dozen.
And while the half-million people jammed into germ-breeding makeshift camps have so far been spared a contagious-disease outbreak, health officials fear epidemics. They are rushing to vaccinate 530,000 children against measles, diphtheria, tetanus and whooping cough.
"It's still tough," said Chris Lewis, emergency health coordinator for Save the Children, which by Tuesday had treated 11,000 people at 14 mobile clinics in Port-au-Prince, Jacmel and Leogane. "At the moment we're providing lifesaving services. What we'd like to do is to move to provide quality, longer-term care, but we're not there yet."
Haiti's government raised the death toll for the Jan. 12 earthquake to 230,000 on Tuesday — the same death toll as the 2004 Asian tsunami. Communications Minister Marie-Laurence Jocelyn Lassegue said she expects the toll to rise as more bodies are counted, and noted the number does not include bodies buried privately by funeral homes or families.
The number of deaths not directly caused by the quake is unclear; U.N. officials are only now beginning to survey the more than 200 international medical aid groups working out of 91 hospitals — most of them just collections of tents — to compile the data.
Some 300,000 people are injured. At Port-au-Prince's General Hospital, patients continue arriving with infections in wounds they can't keep clean because the street is their home. The number of amputees, estimated at 2,000 to 4,000 by Handicap International, keeps rising as people reach Port-au-Prince with untreated fractures.
Violence bred of food shortages and inadequate security is also producing casualties. Dr. Santiago Arraffat of Evansville, Ind., said he treats several gunshot wounds a day at General Hospital.
"People are just shooting each other," he said. "There are fights over food. People are so desperate."
Nearly a month after the quake, respiratory infections, malnutrition, diarrhea from waterborne diseases and a lack of appropriate food for young children may be the biggest killers, health workers say.
Part of the problem is ignorance. Abigail's mother, 20-year-old Simone Bess, waited a week after her child fell ill to bring her in, Colimon said.
Colimon ushered Bess into an adjacent tent when it became clear the Swiss doctors trying to hydrate and keep her child breathing would fail. Bess screamed in agony and crumpled to the paving stones when she heard.
"Please give me my child!" she wailed. "My one and only child. Tell them to do something for her! Tell them to wake her up!"
Twenty yards away, the child's father, James Charlot, curled up against a wall, shaking with grief.
A shortage of medical equipment and spotty electrical power — service has been restored to about 20 percent of Port-au-Prince — have worsened the medical emergency.
A respirator might have saved Abigail, Colimon said. But the hospital has none. Nor does it have electrocardiogram machines. The sweltering heat inside the pediatric tent may also have been a factor.
"This whole tent — all (the infants inside) are dried up because it's so hot in there," said Willow Walsh-Hughes, of Draper, Utah, a nurse who hugged and stroked Bess as her child's life slipped away.
The wire-thin Bess had stopped lactating after the quake, Walsh-Hughes said. Because breast-feeding is the best way to avoid infant diarrhea, a mother's ability to lactate can determine a baby's survival.
At another General Hospital tent, Farah Paul, 16, held her acutely malnourished daughter Roselande. Doctors said the wan-looking, 4-month-old baby was coughing and not gaining weight.
Paul said her breast milk dried up the day of the quake, even before she learned that her sister, mother and aunt had been killed in the disaster. Doctors said Paul had given the baby porridge and bananas, food the child could not digest.
Acute child malnutrition is only expected to worsen until the summer harvest in August, said Mija Ververs, a UNICEF child nutrition expert.
Ververs said that while shock and trauma can cause a mother to stop lactating, it is a myth that hungry women can no longer breast-feed.
"Little infants are like parasites in a way. No matter how little the mother gets herself, she is always able to nourish a child," Ververs said.
Copyright 2018 The Associated Press. All rights reserved. This material may not be published, broadcast, rewritten or redistributed. We strive to uphold our values for every story published.