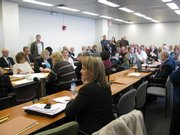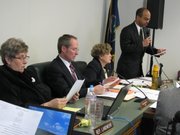 Topeka — Opponents of federal programs on Tuesday pushed for an amendment to the state constitution that they said would prevent the federal government from forcing Kansans to have health insurance.

About 10 people testified in support of Senate Concurrent Resolution 1626, saying Democratic health reform pending in Congress was unconstitutional because it would require that Kansans have health coverage.
Sen. Mary Pilcher-Cook, R-Shawnee, described her amendment as "calling on the Kansas state legislators to protect the freedom of Kansas citizens when it comes to their freedom in choosing their health care as they see fit."
Several of the proposed amendment's supporters criticized President Barack Obama, Medicare and illegal immigration.
Paul Degener of rural Shawnee County said, "Our federal government is our own worst enemy. It continues to grow and gets more dictatorial." Degener said he was on Medicare, but didn't like it. He said people should be allowed to deal directly with their doctor even if that meant paying with chickens.
The Kansas chapter of Americans for Prosperity also supports the proposed constitutional amendment.
But Sen. David Haley, D-Kansas City, spoke against the measure. He said congressional health reforms under consideration "will provide more Kansans with access to care and a means to pay for that care." There are currently an estimated 300,000 Kansans without health care coverage.
And Dr. Ira Stamm, a Topeka psychologist, said a requirement that everyone have insurance was needed "for Americans to have the lowest possible insurance premiums."
The hearing was held before a joint meeting of the House and Senate health committees. No action was taken. If approved by two-thirds of the House and Senate, the measure would be put before Kansas voters in November.
Copyright 2018 The Lawrence Journal-World. All rights reserved. This material may not be published, broadcast, rewritten or redistributed. We strive to uphold our values for every story published.