On the street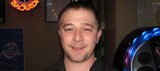 Yes. I'm a smoker and I would like to go to the bar and have a beer and smoke a cigarette, like the good old days.
Americans have come a long way when it comes to implementing smoke-free areas.
Let's hope Kansas doesn't take a big step backward.
Photo Gallery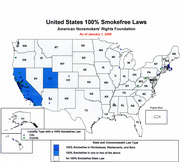 Smokefree laws
A look at how smoke-free laws have increased during the past 10 years, according to the American Nonsmokers' Rights Foundation.
The Senate has passed a statewide smoking ban.
But House Bill 2642 would overturn anti-smoking ordinances such as the one in Lawrence. While it would establish a statewide ban on smoking in indoor public places, it would allow numerous exemptions. For example, restaurants and clubs could continue to allow smoking if there are separate smoking and nonsmoking areas.
The bill is scheduled for a hearing Wednesday before the House Health and Human Services Committee.
"I think it's a joke," said Lawrence resident Kathy Bruner, of the Tobacco Free Kansas Coalition. "I am ashamed of the time that they took to put that together when we have so many pressing issues."
Study after study has pointed to the benefits of laws implementing smoke-free areas.
"They say eight hours in a smoking venue is like smoking a pack and a half of cigarettes," Bruner said.
Each year, tobacco claims 3,800 lives and costs the state $927 million in health care bills, according to a report released recently by five health-based organizations.
Bruner said she became an strong advocate of smoke-free laws while working in the office of her husband, Dr. Steven Bruner.
"I watched so many people's lives be shortened and compromised by tobacco disease-related processes, and we didn't know back then, but now we know. It breaks my heart every time I see a young person start."

— Kathy Bruner, of Tobacco Free Kansas Coalition
She's not alone.
More than 100 American Cancer Society advocates are expected to gather Wednesday in Topeka to support a smoke-free Kansas. There will be a press conference at 10 a.m. at the Kansas Association for Justice, 719 SW Van Buren.
Past Event
When: Wednesday, February 10, 2010, 10 a.m.
Where: Kansas Association for Justice, 719 SW Van Buren, Topeka, KS
Cost: Free
-->
-->
Among those speaking: first lady Stacy Parkinson; Rep. Charlie Roth, R-Salina; Dick Morrissey, deputy director of health for the Kansas Department of Health and Environment; Rep. Tom Burroughs, D-Kansas City; and Gay Cornell and Tonia Carlson, of the American Cancer Society.
After the conference, the advocates will march to the Capitol for a rally, and then go inside to meet with legislators.
To symbolize the lives lost in Kansas to secondhand smoke this year, 380 pairs of shoes will be displayed on the Capitol's east steps.
According to a recent American Cancer Society poll, more than 70 percent of Kansans support a strong smoke-free law for the state.
Copyright 2018 The Lawrence Journal-World. All rights reserved. This material may not be published, broadcast, rewritten or redistributed. We strive to uphold our values for every story published.