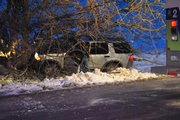 A Eudora man was taken by air ambulance to an area hospital Tuesday morning after his vehicle struck a tree.
Zeb Wisdom, 26, was injured after leaving the road and hitting the tree head-on, in front of the Eudora Township Fire Department, in the 2100 block of North 1300 Road, said Sgt. Steve Lewis, Douglas County Sheriff's Office spokesman. The accident occurred at 6:15 a.m., just south of Kansas Highway 10 in Eudora.
Wisdom had a possible broken leg and other injuries, Lewis said. A condition status was not available from the hospital on Tuesday afternoon.
Copyright 2017 The Lawrence Journal-World. All rights reserved. This material may not be published, broadcast, rewritten or redistributed. We strive to uphold our values for every story published.