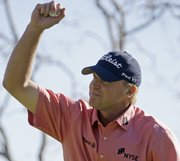 Los Angeles — In a tournament everyone expected him to win, Steve Stricker was trying not to lose.
Instead of firing at flags and trying to make birdies, which allowed him to build a six-shot lead at Riviera, he suddenly found himself playing it safe and trying not to make bogeys. Instead of having a chance to break the 25-year-old tournament scoring record, he feared matching a PGA Tour record for blowing the biggest lead.
The Northern Trust Open ultimately ended Sunday the way everyone thought it would — Stricker in tears after another victory.
"I just knew it was going to be hard," Stricker said after closing with a 1-under 70 for a two-shot victory over Luke Donald. "You're playing a different game than what you normally play. You played scared — at least I did there for a while."
Back-to-back birdies at the turn settled him down. Another clutch putt for par on the 15th hole essentially clinched it for him.
Stricker won for the fourth time in his last 15 starts, moving up to No. 2 in the world for the second time in his career. It was his eighth career victory and the eighth time he couldn't make it through his TV interview without wiping tears from his eyes.
This time, all it took was a reminder of where he was four years ago, when he lost his PGA Tour card.
The final round felt as though it lasted just as long.
His lead was cut in half after four holes after Stricker missed a short par putt. It was down to two shots when Donald made a 10-foot birdie on the fifth hole. It might have vanished entirely had Donald not missed birdie putts about the same length on the next two holes.
"If I got really hot with the putter, I could have maybe caught Steve," said Donald, who closed with a 66. "He played nicely coming down the stretch, and I think he was a deserved winner. But at least I gave him a little run for his money."
Stricker finished at 16-under 268 and earned $1.152 million to go over $25 million for his career.
Dustin Johnson, who shot a 74 on Saturday to fall out of the lead, made one last run and got within three shots. He shot a 66 and tied for third with J.B. Holmes, who closed with a 67.
Phil Mickelson, trying to become the first player to win three straight years at Riviera, had a 73 and finished 14 shots behind.
College athletics
FSU vacates 12 wins
Tallahassee, Fla. — Florida State announced Sunday it will vacate 12 football victories and a 2007 men's track national championship in an academic cheating scandal, along with dozens more victories and placings across 10 men's and women's sports.
The NCAA stripped the school of wins in which 61 athletes implicated in the scandal contributed. The college sports governing body upheld the decision last month after Florida State appealed the sanctions as "excessive."
The men's basketball team lost all 22 wins from 2006-07, and women's basketball lost 16 victories that year.
MLB
Giles signs with Dodgers
Los Angeles — Veteran outfielder Brian Giles has signed a minor-league contract with the Los Angeles Dodgers.
The Dodgers said Sunday that Giles has been invited to big-league camp.
Auto racing
Danica to decide today
Daytona Beach, Fla. — Danica Patrick is expected to announce today whether she will enter the Nationwide Series race at Daytona International Speedway.
JR Motorsports has said it will be up to Patrick to decide if she wants to make her NASCAR debut in the Feb. 13 second-tier series race at Daytona.
She wanted to wait until after her stock-car debut to make a final decision.
After she rallied from a midrace spin in Saturday's ARCA race at Daytona to finish sixth, the buzz has been growing that Patrick will indeed enter the Nationwide race. Tony Eury Jr., her crew chief and part of the ownership group at JR Motorsports, said he would speak to Patrick on Sunday to make a decision.
"The cars are ready if that's what she wants to do," he said. "If not, then we'll come down with somebody else. But it would a real pleasure for her to do it."
Tennis
U.S. moves on to semis
Lievin, France — Teenager Melanie Oudin won her two singles matches to lead the United States to a 4-1 victory over France and secure a spot in the Fed Cup semifinals.
Copyright 2018 The Associated Press. All rights reserved. This material may not be published, broadcast, rewritten or redistributed. We strive to uphold our values for every story published.