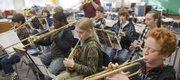 With a $4 million budget deficit growing to $5 million, the likelihood of school closings seems to be increasing.
On the street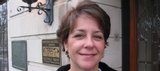 Several elementary schools. … I feel if you close the middle school, you will have too many children in one building.
General fund cuts
As Lawrence school district leaders try to find $4 million to $5 million in budget cuts before next school year because of the state's fiscal crisis, they will be looking at general fund spending, meaning operating costs for employee salaries, supplies and utilities.
State law requires districts to keep two separate pots of money — one for operating expenses and another for capital expenses to fund buildings, equipment and furniture.
Frank Harwood, the district's chief operations officer, said the options for facilities and maintenance cuts under consideration must come from the general fund. For example, it would cover supplies such as toilet paper or salaries for employees.
Harwood said if the district sold any real estate it owned, including school buildings, it could only use the money for its capital budget instead of funding general operations.
Nancy Hamilton says Lawrence school leaders are looking at closing the wrong type of school amid a $4 million to $5 million budget deficit because of the state budget crisis and higher insurance costs.
Board members have heard that it would save an average of $531,000 to close one elementary school.
Hamilton says the district should explore operating three junior high schools instead of four.
"Frankly, I'm not in favor of closing any school. I think that's a terrible idea," said Hamilton, whose daughter is a Hillcrest School first-grader. "But if you're going to close them, close them where they do the least damage to the community."
Hamilton said the plan makes sense because board members are considering reconfiguring schools — like moving ninth-graders from the four junior high schools up to the two high schools. The district has also discussed moving sixth-graders from elementary up with the seventh- and eighth-graders.
Hamilton said state testing data shows that Kansas districts that keep sixth-graders in an elementary school setting perform better academically.
She envisions Lawrence and Free State high schools accommodating four grades — nine through 12 — and three schools for only seventh- and eighth-graders. She says board members would have to cut less elsewhere instead of having to close multiple elementary schools to cover the same amount.
A list of cuts presented last week, which omitted cutting teachers or closing schools, covers only $2.5 million — about half the amount needed.
Frank Harwood, the district's chief operations officer, on Friday said an example of closing Southwest Junior High School — which costs $4.2 million a year to run — would save the district about $957,000 in costs for administrators, classified staff and operating the building. Additional savings would come from the teaching positions the district wouldn't need after shifting the students to other schools.
"It's the kind of suggestion that we definitely should price out and see what kinds of savings we should have," board President Scott Morgan said.
But Morgan said there are several other factors to consider. First, at least four board members need to express interest in moving ninth-graders to the high schools. Board members will discuss school reconfiguration at their board meeting at 7 p.m. today at district headquarters, 110 McDonald Drive.
Morgan said he is not in favor of moving ninth-graders up next year. He wants administrators to have enough time to plan the shift.
But Hamilton said the move makes sense economically and academically and that neighborhood school advocates worry about the effect of closing schools, especially in east Lawrence.
"If they are going to close east-side neighborhood schools, they are going to balance the budget on the backs of our most vulnerable students," she said.
Copyright 2018 The Lawrence Journal-World. All rights reserved. This material may not be published, broadcast, rewritten or redistributed. We strive to uphold our values for every story published.