Trash or treasure?
Here's a look at some of the odd things Lawrence trash truck crews have found in the trash:
• Jars of coins. During move out time, crews frequently find that students just throw out money rather than pack it. No, the crews don't get to keep the money. The city has an anti-looting policy for refuse workers.
• Live possums or raccoons. They are the two most frequent animals found in Dumpsters or trash cans.
• Live people. They run a close second. Trash truck operator Tommy Taylor remembers coming to one Dumpster where a woman — dressed in a new white shirt and black slacks — was inside rooting through the trash. When told she would have to leave, she went to her car and pulled out a stack of Playboy magazines to give to the crew. "I told her we can't take the Playboys and you can't be in the Dumpster," Taylor said.
• Deer carcasses. Around hunting season, there are more Lawrence residents cleaning deer in their garages than you may think.
Photo Gallery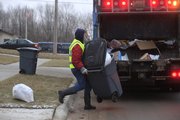 Chad Lawhorn helps the city
Journal-World reporter Chad Lawhorn lends a hand helping city sanitation workers run their routes.
In the fraternity of Lawrence trash truck crews, it is known as the dog feces story.
Actually, it is not known as the dog feces story, but trash truck language does not always translate word-for-word into family-newspaper language.
Anyway, Lawrence trash truck loader Ross Smith is at a Lawrence veterinary clinic holding a bag of dog feces. Except he doesn't know it is dog feces until he throws it into the back of the big blue truck and starts putting the juice to that hydraulic blade that squeezes everything in its path.
"He hollered up to me and asked me for a paper towel," trash truck operator Tommy Taylor remembers. "I turn around and he had it all over. On his face. On his shirt. On his pants."
"In my pockets," Ross jumps in. "That's probably the worst I've ever been sprayed with."
Probably.
• • •
So, here I am hanging off the back of a Lawrence trash truck heading down 23rd Street — and we're turning into a vet clinic. Ross, hanging on the other side, gives me a nod. This is the place.
A moment of explanation may be needed. I'm hanging off a Lawrence city trash truck because city officials have agreed to let me perform, for a day, the work of a typical city trash truck loader. (City Manager David Corliss actually seemed all too accommodating to arrange this for the City Hall reporter.) I know not Corliss' motives, but mine were nothing more than to give readers a peek at the job as city officials talk about changing the city's trash service — everything from new types of rates to how trash truck crews are paid.
Back at the vet clinic, there are bags. My post in this operation is along the side of the truck. Ross had told me that's where he was at when it happened, but he said he may have left himself exposed just a little too much.
I, for one, hide beside the truck like there is a sniper on the roof.
The stop is done, and thus far it is: Rookie Trash Truck Loader 1, Fido 0. Later, Ross tells me his canine combustion wasn't all that bad.
"It is one of those things you get accustomed to in this job," Ross said. "At first, you're like 'that is gross.' But then, it is like, 'ah, that happens.'"
With any luck, today it doesn't.
• • •
There's a light that shines through the glass door at 11th Street and Haskell Avenue at 5:30 a.m. Like bugs to a zapper, it attracts trash men.
Inside, crews gather around a table and a pegboard of truck keys. They're waiting until 5:45 when they are allowed to clock in and fire up the diesel engines that are to this East Lawrence intersection what a rooster is to the farm.
In the meantime, they've got a new guy to look at. They kid him about his hat — a city-issued stocking cap with a nice little embroidered trash truck on it. Apparently, nobody actually wears that.
They question his coveralls. (They were right. Despite temperatures that never got above the low 30s, I was so hot by 7 a.m. that I ditched them.)
When asked, they offer some advice, but not much.
"Hang on," one says.
"And," from another, "don't get run over."
• • •
Tommy Taylor has been on the crew for nine years now — seven as a loader and the last two as the lead operator who drives the truck.
He's been part of these assignments before to show the trash truck ropes to a "dignitary" (the quotation marks are extra heavy when referring to a City Hall reporter). He's taken the city auditor out, as well as an assistant city manager who wanted to get a better feel for the operations.
He comes to work with a smile — a genuine one, it appears — but also a clear purpose. There's a lot of trash to pick up. A lot of tanks — trash men don't often call them Dumpsters — to tip today.
"They told me to be nice to you, so I'm going to take it easy on you for the first half-hour," Tommy says.
My, my, how time flew.
• • •
A hook, of all things, was my enemy. Lawrence trash trucks are set up to empty the large Dumpsters around town by pushing the tanks up against the back of the truck and then attaching a steel cable to a ring on the back of the Dumpster. A winch does the heavy work.
But still, somebody has to open the hook and attach it to the ring. Sounds easy enough. Evidently, though, having a pair of hands that can manipulate a keyboard does not prepare you to open a simple hook.
Ross tells me he struggled with it his first time too, but I'm not sure I believe him. And then, when you think you finally have it figured out, the trash truck has a way of bringing you back to earth.
We're in the Meadowbrook Apartments complex, and I snap one on and yell "hooked" to let Ross know to start the winch. What I didn't know was that the lid to the Dumpster hung down and caused the hook to not fully close. As the tank got about three feet in the air, that became pretty obvious.
"I don't think that one was hooked all the way," Ross says matter-of-factly as the Dumpster falls backward and crashes onto the parking lot. Trash spews, a wine bottle — really, a wine bottle at Meadowbrook — shatters. It all gets tossed back in, and Ross gets the broom and dustpan to clean up the kid's mess.
At least I wasn't standing behind the trash truck when it happened. I had already been told that a trash truck is like a mule — don't stand behind it unless you want to get kicked.
And that was before I even knew about the dog feces.
• • •
A half a step out of place is all it takes.
Like many blue-collar jobs, this is one that is about timing and knowing your place. The dog feces makes for a good story — a good way to gag your dinner companion — but it really is not what weighs on your mind as you hang off the back of a trash truck.
Instead, you think about how when Ross moves to spot A, you are going to move to spot B and grab object C so that we keep this process moving and you do your share of the work.
You think about making sure your foot isn't tangled up with the cable when you jump off the platform of the truck. You think about how when you grab a tank to shove up against the truck that you're going to grab it far enough back to keep your fingers out of the way. Tommy, earlier in his career, broke three fingers when he forgot to think about that.
But mainly, you think about the cars. You always have to be thinking about the cars. Every time you leap, you have to look because trash truck crews the world over will tell you that many motorists won't.
"They consider us like a traffic jam, and it irritates them fast," Tommy said. "Just pay attention to the guys in the green vests and the big blue trucks with the flashing lights. That's really what we want people to do."
Those cars, along with a heavy dose of lifting and lots of moving parts, rank trash collecting as the ninth most dangerous profession in the country, said Craig Pruett, the city's field supervisor for solid waste. According to federal occupational data, there are 46 fatalities per 100,000 refuse collectors. That's about three times more than for firefighters or police officers.
Many times, there's little a trash worker can do. In 2001, a Lawrence trash truck loader lost a leg after being struck by a car that ran into the back of the truck.
Other times, it just takes being a half step out of place to hurt yourself. Like when pushing a tank back into place and standing right next to the ear — the nub that latches onto the truck. Standing a half-step behind the Dumpster would have been better, so that when it hit the parking lot pothole the Dumpster would not slam into your ribs with such force to double you over.
But it's OK. It was the last tank of the day, and it only hurts when I move.
• • •
Sometimes Ross likes to freak people out.
"Every once in a while, I'll run into somebody and they'll tell me where they live, and I'll say, 'Yeah, you put out two black trash bags every week," Ross said. "They'll be like, 'How did you know that?' I say because I pick up your trash and I know these things."
Trash men really do. Several hours into a route, Ross and Tommy could tell you exactly how many tanks are left to dump. Ross often times can accurately predict how many beer cases will be piled up around the corner. They remember individual trash cans — which ones are likely to be heavy, which ones have bags in them, which ones just have the trash laying loose (that's not cool, by the way).
They say such tricks are not that hard, if you like what you do.
"I enjoy my job, I really do," Tommy said. "When you enjoy working with the guys you've got on the truck, it is great."
A big part of it is the camaraderie, they say, doing a job that others don't want to do. Part of it, though, is just looking in the rear-view mirror and seeing that you left a place cleaner than it once was.
On this day — the second day of February — our truck delivered 18,820 pounds of trash to the landfill. We pulled into the shop, fueled up (we burned about 20 gallons of diesel), cleaned up, and were done by about noon.
The crews, if their supervisors believe they've done a good job, get to leave when they're done and get paid for the full eight hours. That's one of the policies city commissioners are now reviewing.
Deciding whether that is a good policy for the city is above my pay grade. But I can tell you, though, I was ready to go home. Of course, what was waiting for me when I got there?
Yep, a trash can that needed to be put away. Indeed, it was empty.
Copyright 2018 The Lawrence Journal-World. All rights reserved. This material may not be published, broadcast, rewritten or redistributed. We strive to uphold our values for every story published.