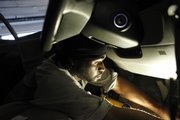 Detroit — Responding to two recalls and facing the prospect of another one, Toyota dealers across the country were repairing thousands of cars Saturday, the first weekend day that many drivers had a chance to take action.
Although many dealers expected a long line of customers, most drivers seemed far from panicked.
Delwyn Wright, a 51-year-old truck driver, had heard about Toyota's troubles on the news but got the accelerator on his wife's Camry fixed Saturday after it was suggested by a dealer in Columbia, S.C., where Wright had taken the car for an oil change.
"We ain't never had no problem with it," Wright said.
Toyota recalled 2.3 million cars in eight models, including the top-selling Camry, on Jan. 21 and stopped selling the vehicles five days later because the gas pedals can get stuck in a depressed position. But it took until the past week for Toyota to mail parts to dealers and train technicians, making this the first weekend many Toyota owners could seek repairs.
At the same time, dealers are repairing 5 million Toyotas from an earlier recall because their floor mats could jam the pedals, causing unintended acceleration. And the possibility of another recall looms — this time, for the company's celebrated Prius hybrid.
Even so, at Manhattan Toyota, a dealership on the borough's West Side, there were more potential Toyota buyers in the showroom on Saturday than car owners waiting for their gas pedal to be modified. A giant sign in the window read: "We have in stock 200 vehicles not affected by the recall."
Sales manager Chris Mignano said the dealership started doing the pedal modifications on Friday, completing work on about 30 cars by Saturday morning. Six extra technicians were hired to handle the repairs.
Mignano said every customer who called has been given an appointment and a quick primer on how to stop their vehicle — apply the brakes and put the car in neutral — if a problem should occur.
One customer, Margot Hammond, called the repair "very easy — no problems."
Even though the fix is quick and simple, dealers say they're confident that the repair will stop the gas pedal problems.
"I've been with Toyota 20 years, I feel confident with Toyota," said Bruce Winokur, general sales manager at Toyota Center in Columbia, S.C. "As long as I've been with them, everything they've done in the past with issues, they have done the right way."
Regulators aren't so sure. The U.S. Department of Transportation is reviewing whether Toyotas and other vehicles may have a wider problem of electronic interference causing acceleration and other unintended actions.
The government is also investigating more than 100 reports that the brakes on the 2010 Prius hybrid appeared to fail momentarily when the car is driving on bumpy roads. Toyota blames a software glitch and says it has already fixed vehicles in production. But it's still deciding how to handle repairs on 270,000 Priuses that were sold in the U.S. and Japan starting last year. The company could announce a full-fledged safety recall or simply ask owners to bring their vehicles in for repairs, because the brakes aren't failing completely.
In Tokyo, Toyota has decided to issue a recall for the Prius in Japan, media reports said today, as the company told dealers in the United States it is preparing to repair the brakes on thousands of the hybrid vehicles there. It was unclear whether Toyota planned a formal U.S. recall.
Toyota decided on a separate recall in Japan on Saturday covering its latest Prius model and has notified dealers, Japan's largest newspaper, the Yomiuri, reported without naming sources. It said Toyota would announce the move early this week after consulting with the Japanese government. Toyota, which said last week it was still deciding what to do about the Prius and that a recall was an option, did not confirm the Yomiuri report.
Copyright 2018 The Associated Press. All rights reserved. This material may not be published, broadcast, rewritten or redistributed. We strive to uphold our values for every story published.