Photo Gallery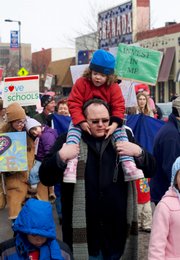 Save our Schools march
The Feb. 6 march was organized by Save Our Neighborhood Schools, an organization whose goal is to prevent the closing of Lawrence public schools.
On the street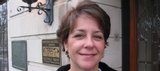 Several elementary schools. … I feel if you close the middle school, you will have too many children in one building.
The chant "Save Our Schools" rang through downtown Lawrence on Saturday afternoon as a crowd of protesters spanning two city blocks marched along Massachusetts Street.
The group of more than 1,200 intended for that message to be carried to Lawrence school administrators and Topeka legislators.
"You can just feel the emotion here," said Kelly Jones, who has two daughters at Cordley School, 1837 Vt. "We all love our schools. They are doing a very good job of educating our children, and we don't want to close something that is working."
Lawrence School District faces a deficit of $4 million to $5 million. Among the alternatives proposed to bridge that gap is closing the district's smaller elementary schools, which would shave off between $450,000 and $650,000 for each school.
But the cost of closing those schools are high, said Saturday's marchers.
"Schools are the focal points of our neighborhoods. They are what keep our communities together," Jones said.
Before closing schools, Lisa Wolf-Wendel said the district needs to look at slashing administrative costs by sharing principals, increasing the student-to-teacher ratio and joining a larger bargaining group when negotiating health insurance costs for employees.
"We all need to feel the pain," said Wolf-Wendel, who has two children at Cordley. "It shouldn't be a budget cut to half of the town."
Before Saturday's march, hundreds gathered at Liberty Hall for a rally. Inside, the atmosphere was a festive one with booths set up to sell Save our Schools T-shirts and yard signs. Children squatted on the floor making signs, and a bluegrass band played on stage.
Standing before the crowd, State Rep. Paul Davis, D-Lawrence, said the school board was facing a difficult task.
"Frankly, the situation we are in right now is not their fault," Davis said. Instead, he pointed to state legislators who have refused to fund the school's finance formula during the Kansas' recent fiscal crisis.
"This debate is not just occurring here. It is occurring all over the state. We need to get the message out that we cannot tolerate any more budget cuts," he said. "If we cut our budget any more, the children that are here and the quality of education that they get will be severely compromised."
Just before the marchers took to the street, Jeremy Winfrey — a father of two daughters at New York School, 936 N.Y. — did his best to rally the group.
"We will fight for our schools. Let the school board hear you, let Topeka hear you," he yelled into a cheering room.
After the march, Winfrey talked in a quieter tone about how the closure of New York School could affect his family.
"The student body at New York is small, but they don't get lost in the shuffle," he said.
School board member Rich Minder said Saturday's turnout demonstrates the strong relationship between the schools and community.
"It seems pretty clear our community is coming to a consensus that as a way to deal with this short-term crisis, (closing schools) is not a sacrifice that people are willing to make," he said.
Copyright 2018 The Lawrence Journal-World. All rights reserved. This material may not be published, broadcast, rewritten or redistributed. We strive to uphold our values for every story published.