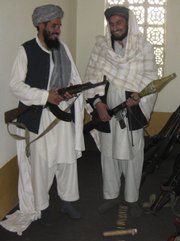 Kabul — A new and possibly decisive chapter of the Afghan war is unfolding. The U.S. is preparing a major attack on the Taliban, the militants are being squeezed in their Pakistani sanctuaries, and the Afghan government is trying to draw them into peace talks.
While "not prepared to say we've turned a corner," the top U.S. commander, Gen. Stanley McChrystal, told reporters at a NATO meeting Thursday that he is more optimistic than last summer and now believes the situation is no longer deteriorating.
Much could still go wrong. Even if all the cards fall in NATO's favor, the conflict will likely persist for years.
But the U.S. and its partners now have a better shot at blunting the growth of the Taliban, the austere Islamic movement that rebounded four years ago after being driven from power in the 2001 U.S.-led invasion after it refused to sever links to al-Qaida.
If NATO recaptures the momentum, it could encourage the militants in time to seek a political settlement, which U.S. officials believe is the only way to end the conflict. For now, attention is focused on what will be the first big test of U.S. President Barack Obama's surge — an assault by thousands of U.S. Marines and soldiers on Marjah, a southern Afghan city of 80,000 people and the hub of Taliban logistics.
Aid teams are supposed to follow the troops to re-establish public services and government control in hopes of winning public support.
It will be the first major combat operation since Obama last December ordered 30,000 more U.S. troops to Afghanistan, gambling on turning the tide of war. Other NATO countries added 7,000 more.
The Taliban, mindful that Obama also pledged to begin withdrawing U.S. forces in mid-2011, claim to be undaunted by the surge.
"The number of Taliban fighters is increasing day by day, not only in the south but in the north of Afghanistan as well," says Taliban spokesman Qari Yousef Ahmadi. "It doesn't matter if the Americans increase the number of soldiers, the Taliban will continue to pursue jihad," he told The Associated Press.
Insurgent forces have grown steadily in Afghanistan — from fewer than 400 in 2004 to nearly 30,000, by NATO estimate.
But they are already feeling pressure. Village elders and former Taliban fighters say that many militants are returning from Pakistan because of stepped-up U.S. missile strikes there — one of which is believed to have killed the commander of the Pakistan Taliban — and Pakistan's offensive last year against Taliban in South Waziristan near the Afghan border.
At least some of the returning fighters have expressed interest in government offers of reconciliation.
And those who fight on may be easier to handle in Afghanistan, corralled against NATO firepower, rather than in Pakistan, where foreign troops are banned from ground combat operations and the main weapon is missiles fired from pilotless drones.
Copyright 2018 The Associated Press. All rights reserved. This material may not be published, broadcast, rewritten or redistributed. We strive to uphold our values for every story published.