Photo Gallery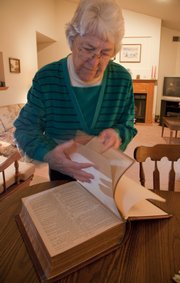 Burrows Family Bible
Photos of Beverly Burrows' family Bible.
If a picture's worth a thousand words, it's a picture frame that sets the tone for Burrows' Bible. In the back of the well-maintained 10-pound behemoth are slots for family photos. The first photo is of Burrows' late husband's great-grandfather, Zachariah. Next to it is an empty slot. Below that is a picture of Zachariah's wife, Harriett, whom he married in 1843. Apparently, after her Zachariah's death, Harriett Burrows moved her photo down a frame so that she could put beside it a picture of her second husband, a man who must have particularly liked the hold-over Bible from her first marriage: He had his name inscribed on the Bible's cover.
Copyright 2018 The Lawrence Journal-World. All rights reserved. This material may not be published, broadcast, rewritten or redistributed. We strive to uphold our values for every story published.