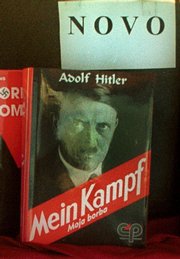 Berlin — Publish Hitler's infamous memoir "Mein Kampf" in Germany? It sounds like the ultimate taboo.
But a group of German historians is lobbying to do just that, arguing that it's necessary to get an authoritative annotated edition ready for bookshops by the time the copyright runs out in 2015, opening the way for neo-Nazi groups to publish their own versions.
The memoir has been under a de facto publishing ban in Germany since the end of World War II, with the government body that holds the rights refusing to let anybody print it.
Bavaria's Finance Ministry has rejected proposals by Munich's Institute for Contemporary History to publish the tome, but there has been growing support for the idea. This week, the state's science minister emerged as an energetic backer of printing a critical edition.
"Once Bavaria's copyright expires, there is the danger of charlatans and neo-Nazis appropriating this infamous book for themselves," Wolfgang Heubisch said Thursday.
Edith Raim, a historian at the Munich institute, envisions a thorough, academic presentation that places Hitler's work in historical context. She says that would be the best defense against those who might want to use the book to advance racist or anti-Semitic agendas.
Widely available in the English-speaking world, the book has never been reprinted in Germany since World War II. While possession is not illegal, resale of old copies is tightly regulated, essentially limited to research purposes.
Copyright 2018 The Associated Press. All rights reserved. This material may not be published, broadcast, rewritten or redistributed. We strive to uphold our values for every story published.