Photo Gallery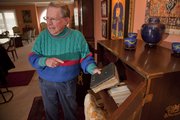 Harrison Family Bible
Photos of Phil Harrison's family Bible.
Harrison's family Bible was one of several family treasures hidden away in an Asian chest gifted to him in the will of his aunt. When the chest arrived two years ago, he had no idea what might be inside. Turns out there were multiple photo albums, a keepsake quilt embroidered with names and a family Bible inscribed with the words "DO NOT DESTROY." Harrison, 66, a lover of antiques and art, was happy to oblige, but he was faced with the problem of being what he calls a "dead-ender" — he has no children, siblings or first cousins. He was at a loss of who to pass the Bible on to until, on a whim, he called distant cousin Marianne Fischer, who told him about a nephew working on a family history.
Copyright 2018 The Lawrence Journal-World. All rights reserved. This material may not be published, broadcast, rewritten or redistributed. We strive to uphold our values for every story published.