Photo Gallery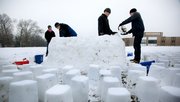 Feb. 5 winter storm
About two inches of snow fell across the Lawrence area Friday Feb. 5. Cars were sliding off the road all over town.
Kansas weather updates, via Twitter
Winter Weather
Winter weather information
12:19 p.m. The National Weather service has allowed the winter weather advisory to expire in Douglas County.
According to 6News meteorologist Ashley Meenen, the area might see a few stray snow flurries through Friday evening but not much additional snow accumulation.
11:48 a.m. Lawrence police have reported 42 accidents on city streets since midnight.
Only two accidents involved injuries, and those were minor.
The latest update from the National Weather Service indicates that the winter weather advisory will be allowed to expire at noon.
11:10 a.m. Latest totals are 3.5" of snow downtown.
With rush hour over, the number of accidents have slowed down a lot.
6News Chief Meteorologist Matt Elwell said Lawrence is now on the backside of the storm and should expect the snow to taper off over the next couple of hours.
10:48 a.m. Snow fall continues across the area.
One of our meteorologist has gathered snow fall totals from across northeast Kansas. Totals in Douglas County range from an inch in Lecompton to about three inches at Clinton Lake.
Downtown has had roughly two inches.
How much snow do you have in your neighborhood?
8:55 a.m. Lawrence street crews began working round-the-clock shifts at 4 a.m. Friday.
According to supervisor Tom Orzulak, crews were treating the roads with a mixture of sand and salt and will continue to do so through the afternoon hours. Because the accumulation is expected to be less than 3 inches, no plowing is expected.
The Kansas Department of Transportation has downgraded Douglas County road conditions to "completely snowpacked/icy," which includes U.S. Highways 56, 24, 40 and 59 and Kansas Highway 10. The Kansas Turnpike remains "partly snowpacked."
The city advises motorists to use caution while driving and says roads in some places are very slick. Clinton Parkway between Iowa Street and Kasold Drive was reported to be bumper-to-bumper traffic.
Police had responded to numerous non-injury or minor injury accidents and requests for assistance by stranded motorists.
Check back for updates.
7:49 a.m. The snow is falling and the roads are slick as of 7:40 this morning.
Numerous accidents have been called into Lawrence emergency dispatchers and there was at least one rollover accident reported on County Road 1057 south of Kansas Highway 10 a little after 7:30.
According to the Kansas Department of Transportation, roads in Douglas County are slushy, with the Kansas Turnpike deemed partly snowpacked.
At least an inch of snow — probably more — has accumulated on outdoor tables and chairs, with about an inch or less of accumulation on roads.
Check back for updates.
5:54 a.m. The snow falling has gotten a little bit thicker, but there still isn't much sticking on the roads. Driving visibility is down and roads may be slick and even snowpacked in some areas as the morning wears on. The Kansas Department of Transportation lists Interstate 70 in Douglas County as having spots of snowpacked road.
Temperatures have still not dipped below freezing, which should allow the predicted one to two inches of snow to accumulate on the ground.
4:40 a.m. We're beginning to get a light, wet wintry mix on the ground. The temperatures are still above freezing so not much is sticking. There have been reports of light snow staying on some of the more rural dirt roads around Lawrence, but the paved roads are just wet at this point.
Check back for updates.
12:00 a.m. The winter weather advisory is in effect until noon Friday. Temperatures will remain near freezing, so any precipitation that may fall on the area has the chance to stick around.
Snowfall amounts aren't looking too substantial, according to 6News Chief Meteorologist Matt Elwell. He says dry air moving through eastern Kansas will keep the weather in the Lawrence area rather quiet. Elwell predicted we would see one or possibly two inches of snow starting early Friday morning.
Roads may be slick with precipitation falling in near-freezing conditions.
Check back for updates.
1:44 p.m. The snow began falling in Lawrence shortly after 1 p.m. Thursday.
Temperatures, though, were still above freezing and the snow wasn't accumulating on the ground.
The latest projections are for a wintry mix and rain throughout the late afternoon hours, changing over to all snow tonight.
Check back for updates.
Thursday
10:09 a.m. The latest information in the hands of 6News Chief Meteorologist Matt Elwell suggests 2" to 3" of total snow accumulation is most likely across the Lawrence area, with areas of 4" to 5" possible.
Elwell said the storm would be spinning over the area for some time, leading to isolated pockets of greater accumulation.
The snow should begin before midnight, Elwell said, though with accumulation not starting until after midnight most likely.
Check back for updates.
7:59 a.m. The National Weather Service has extended the winter weather advisory until noon on Friday, instead of 6 a.m.
For now, the National Weather Service is still predicting 2-4" of snow in our area, with the majority of that snowfall occurring after midnight.
The precipitation will still start this afternoon, but will remain as rain through the evening hours.
3:48 a.m.
Temperatures are still above freezing as the morning gets underway. The National Weather Service has predicted the chances for precipitation Thursday are about 50 percent.
No precipitation has fallen at this point near downtown Lawrence. Estimates for Thursday night snowfall are between one and two inches.
12:00 a.m.
The winter weather advisory from the National Weather Service is set to go into effect Thursday afternoon. Moisture working its way through the area is expected to produce precipitation, with as many as three inches of snow possible into Friday morning.
Temperatures are currently above freezing, sitting in the mid-30s.
Wednesday
The National Weather Service in Topeka has issued a winter weather advisory for parts of northeast Kansas beginning at noon Thursday and continuing through 6 a.m. Friday.
The weather service is predicting 3 to 4 inches of snow in northeast Kansas, with the snow beginning during the afternoon Thursday and continuing through Friday morning.
Drivers are urged to use caution while traveling and be prepared for limited visibility and slippery conditions.
Check back to LJWorld.com for updates.
Copyright 2018 The Lawrence Journal-World. All rights reserved. This material may not be published, broadcast, rewritten or redistributed. We strive to uphold our values for every story published.