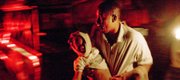 A 7.0 magnitude earthquake occurred 10 miles southwest of Port-au-Prince on Jan. 12, causing widespread devastation in Haiti's capital and throughout the country.
Topeka — Members of the Kansas National Guard have helped build a new hospital to treat earthquake victims in Haiti.
Engineers from the 190th Civil Engineering Squadron based in Topeka and the 184th Civil Engineering Squadron from Wichita have been helping rebuild infrastructure after the January earthquake.
Many of the airmen were training at Guantanamo Bay, Cuba, when they were assigned to go to Haiti as part of the U.S. relief effort. The hospital is an emergency medical support facility that is capable of performing a variety of services.
The airmen are expected to be working in Haiti for the next four months.
Copyright 2018 The Associated Press. All rights reserved. This material may not be published, broadcast, rewritten or redistributed. We strive to uphold our values for every story published.