Photo Gallery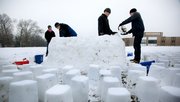 Feb. 5 winter storm
About two inches of snow fell across the Lawrence area Friday Feb. 5. Cars were sliding off the road all over town.
Kansas weather updates, via Twitter
Winter Weather
Winter weather information
The snow that fell on northeast Kansas on Friday moved out of the area last night, but the area could soon be in for more winter weather.
According to 6News meteorologist Ashley Meenen, the Lawrence area should not see much additional accumulation today, but snow is expected to resume late Sunday and continue into Monday as part of a stronger winter weather system.
"It's too soon for the models to have a complete handle on it, but this next system will bring more snow," Meenen said. "It just looks like a stronger system. (Friday's) system came through with temperatures holding in the low to mid-30s, but by Monday we'll drop into the upper 20s."
According to 6News meteorologist Greg Postel, the Lawrence area could get anywhere from 3 to 5 inches of snow starting after nightfall Sunday. That system is expected to clear out on Tuesday and Wednesday.
Friday's storm had been expected to begin late Thursday, but warm temperatures kept precipitation from freezing until the start of the Friday morning commute. Slow travel conditions and minor vehicle accidents tied up traffic along sections of 23rd Street and Iowa Street.
Lawrence police responded to 42 vehicle accidents from midnight to noon Friday, according to police spokeswoman Kim Murphree. One of the accidents, in the 2200 block of Kasold Drive, was classified as an injury accident. Another, near the intersection of Peterson Road and Kasold Drive, was considered a minor injury accident.
Lawrence street division manager Tom Orzulak said city road crews had hit the streets by 5:30 a.m. Friday, and had treated all city streets by 11 a.m. Streets mostly were just wet throughout the day, but some roads with little or no traffic accumulated snow from the 3.5 inches that fell.
Orzulak said he was more concerned about the next wave of winter weather because of the forecast for lower temperatures.
Copyright 2018 The Lawrence Journal-World. All rights reserved. This material may not be published, broadcast, rewritten or redistributed. We strive to uphold our values for every story published.