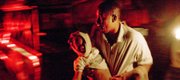 A 7.0 magnitude earthquake occurred 10 miles southwest of Port-au-Prince on Jan. 12, causing widespread devastation in Haiti's capital and throughout the country.
Haiti — Ten U.S. Baptist missionaries were charged with kidnapping Thursday for trying to take 33 children out of Haiti to a hastily arranged refuge just as officials were trying to protect children from predators in the chaos of a great earthquake.
The Haitian lawyer who represents the 10 Americans, including a Topeka, Kan., man, portrayed nine of his clients as innocents caught up in a scheme they did not understand. But attorney Edwin Coq did not defend the actions of the group leader, Laura Silsby, though he continued to represent her.
"I'm going to do everything I can to get the nine out. They were naive. They had no idea what was going on and they did not know that they needed official papers to cross the border," Coq said. "But Silsby did."
Copyright 2018 The Associated Press. All rights reserved. This material may not be published, broadcast, rewritten or redistributed. We strive to uphold our values for every story published.