-->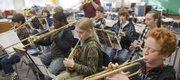 With a $4 million budget deficit growing to $5 million, the likelihood of school closings seems to be increasing.
The painful list of Lawrence school budget cut options — from dropping support staff to after-school music programs and athletic coaches — will only get board members halfway to covering a $5 million deficit.
"It was clear that as devastating as those cuts would be and as bad as they are, they still don't add up (to $5 million). That's the depth of the hole," board president Scott Morgan said.
During a Tuesday study session, administrators presented board members with a list of potential cuts to programs and budgets. But even if board members approve all of those cuts, they total about $2.5 million.
That scenario would not include other options that would cut teaching positions and courses, such as increasing the student-teacher ratio, changing school boundaries or even closing elementary schools.
After the district already cut $2.5 million last year, the state budget crisis has decreased base state aid per pupil for the next school year, creating a $4 million deficit for Lawrence public schools. Also, a $1 million increase in employee health insurance costs will likely add to the district's deficit.
Morgan said board members likely will have to look at increasing class sizes and other options.
"I don't know how we get around doing something with facilities," he said.
Rich Minder, the board's vice president, said board members need to continue to gather information in coming weeks before they make a decision about cuts.
"It's pretty clear there's a variety of ways we can come up with $4 million or $5 million. We need to see what varieties we can come up with and what ideas the board members and community members can come up with," Minder said.
Board members have scheduled four public forums. The first one is 7 p.m. Tuesday at the South Junior High School auditorium, 2734 La.
Possible budget cuts
The total cost of cutting all these options adds up to about $2.5 million, only halfway to the district's expected $5 million deficit for next school year.
Cuts to district and school administration, plus clerical aides and secretaries: $661,900.
Eliminating elementary enrichment classes: $122,580.
A 10 percent reduction of general fund expenses on facilities and maintenance: $80,000.
Cutting back on fine arts events: $11,291.
Reductions in elementary guidance counselor positions and work days for secondary ones: $282,724.
Three less full-time learning coach positions and cutting extra days: $179,270.
A 25-percent cut to professional development: $75,000.
Reorganizing library media operations: $228,609.
Reducing full-time nurses from 12 to seven positions: $222,369.
Eliminating general fund spending on high school prevention specialists: $36,445.
Special education cuts, including cutting back on materials and programs and reducing staff hours: $204,693.
Not filling certain "supplemental" positions or programs to cut costs in after-school music, fine arts and athletics: $195,522.
Stop absorbing administrative costs to assist the Lawrence Virtual School: $223,970.
Copyright 2018 The Lawrence Journal-World. All rights reserved. This material may not be published, broadcast, rewritten or redistributed. We strive to uphold our values for every story published.