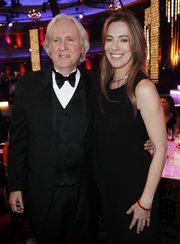 Bridges, Bullock early Oscar favorites
LAS VEGAS — Jeff Bridges and Sandra Bullock are early favorites to win Oscars in the top acting categories at the Academy Awards, oddsmakers said Tuesday.
"Avatar" is considered the favorite among 10 nominees for best picture.
John Avello, executive director of the race and sports book at the Wynn Las Vegas casino, tabbed Bridges as a 2-3 favorite to win best actor for his role in "Crazy Heart."
Avello has Bullock at even-money for best actress for "The Blind Side" but said he was surprised the football drama was nominated for best picture.
"I was blindsided by 'Blind Side,' and I'm up in the air about the others," he said.
Benjamin Eckstein, president of syndicated newspaper odds column America's Line, listed "Avatar" as a 1-2 favorite for best picture with "The Hurt Locker" an even money contender.
Bookmakers picked Kathryn Bigelow as the favorite to win the best director Oscar for "The Hurt Locker."
Beverly Hills, Calif. — "Avatar" is a dreamy space fantasy that has made more money than any movie in history. "The Hurt Locker" is a ground-level dose of war-on-terror reality and one of the lowest-grossing best-picture contenders ever.
With a leading nine Oscar nominations each and ex-spouses James Cameron and Kathryn Bigelow as directors, the films are a study in extremes. They're also the only two movies that really matter in the expanded race for Hollywood's top prize March 7.
"Avatar," about the human invasion of a faraway moon populated by blue-hued creatures, won best drama and director at the Golden Globes. "The Hurt Locker," a disturbingly close and claustrophobic look at the strains of disabling bombs in Iraq, earned the top prizes from guilds representing directors and producers, and was chosen as the year's best film by many key critics groups.
"It's a true David and Goliath kind of story, isn't it?" said Jeremy Renner, a best-actor nominee for his performance as a bomb-disposal expert in "The Hurt Locker." "You know what? I love being David. ... It's like 'The Bad News Bears' or something, or Rocky Balboa."
In between the two films in the Academy Award best-picture nominations announced Tuesday is a range of mainstream hits and critical darlings that deliver just what Oscar overseers wanted when they expanded the category from five films to 10 — something for everyone.
"Extraordinary company. Every film is a masterpiece in and of itself," said Bigelow, whose best-director nod for "The Hurt Locker" makes her the fourth woman ever nominated in that category. "It creates a lot to choose from, let's put it that way."
Despite the head-to-head awards rivalry between Bigelow and Cameron, who were married from 1989 to 1991, they don't seem to share any animosity.
"Frankly, I thought Kathryn was going to get this. She richly deserves it," Cameron said last month as he accepted his Golden Globe.
Along with Cameron's behemoth "Avatar," which has surpassed his own "Titanic" as the biggest modern blockbuster, four other huge hits earned best-picture nominations: the animated comedy "Up," the football drama "The Blind Side," the World War II saga "Inglourious Basterds" and the sci-fi tale "District 9."
Two other nominees, the recession tale "Up in the Air" and the Harlem drama "Precious: Based on the Novel 'Push' By Sapphire," have been solid moneymakers.
Then there's "The Hurt Locker," the teen drama "An Education" and the offbeat academia story "A Serious Man," little arthouse triumphs whose domestic grosses — ranging from $9 million to $12.7 million — amount to popcorn money compared with the $600 million in the U.S. and more than $2 billion-plus worldwide "Avatar" has made.
"What a great day for film when you have the biggest film ever made in the same grouping as a little film like 'Precious.' And 'Hurt Locker.' And how fantastic I think that is for this environment," said Sarah Siegel-Magness, a producer on "Precious."
Diversity rules the directing category, traditionally a white men's club. Bigelow has a good shot to become the first woman to win the directing Oscar, while "Precious" filmmaker Lee Daniels is only the second black director ever nominated.
"It's always the first black something-or-other," Daniels said. "After 82 years, it's the first film nominated for best picture directed by an African-American. Isn't that great? It's so exciting. How can you lose? You can't lose!"
Along with Bigelow, Daniels and Cameron — whose "Titanic" won 11 Oscars, including picture and director — the directing nominees are Jason Reitman for "Up in the Air" and Quentin Tarantino for "Inglourious Basterds."
Acting nominees include the four stars who have emerged as favorites from previous awards shows: lead players Sandra Bullock for "The Blind Side" and Jeff Bridges for the country-music tale "Crazy Heart" and supporting performers Mo'Nique for "Precious" and Christoph Waltz for "Inglourious Basterds."
Copyright 2018 The Associated Press. All rights reserved. This material may not be published, broadcast, rewritten or redistributed. We strive to uphold our values for every story published.