Photo Gallery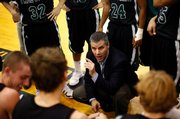 Free State vs. Topeka High
Free State vs. Topeka High
Topeka — Chuck Law couldn't help but toss in a little sarcasm Tuesday night.
After learning his Free State High boys basketball team had fired at a paltry 28.3-percent clip in a 56-40 loss to Topeka High, Law was looking for a silver lining.
"Well, we shot only 26 percent last Friday," the Firebirds' coach said, "so we made some improvement."
Yes, and the Firebirds scored nine more points than they did in that 52-31 thumping last week at Olathe East.
Free State was never really in Tuesday's game after falling behind 12-2 in the first quarter and 29-15 at intermission. The Firebirds made only six of 22 shots in that tepid first half.
"We have guys we believe are good shooters," Law said, "who need to score when they're open, and we had a lot of open shots."
Then there was that turgid start.
"We're too passive at the start of games," Law said. "We have too many guys waiting for the game to come to them."
As an example, Law's five starters combined for only 13 points. Reserves, led by Ryan Scott's nine points and Brett Frantz's seven, accounted for the bulk of the Firebirds' scoring.
The good news was that 10 Firebirds scored at least two points. The bad news was that none scored in double figures.
Free State will try to rediscover its shooting touch on Friday when it travels to Shawnee Mission East.
Free State's record dipped to 5-8 while Topeka High, led by Onzay Branch's 15 points, is 8-5.
Copyright 2018 The Lawrence Journal-World. All rights reserved. This material may not be published, broadcast, rewritten or redistributed. We strive to uphold our values for every story published.