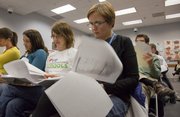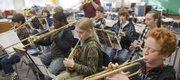 With a $4 million budget deficit growing to $5 million, the likelihood of school closings seems to be increasing.
It was two and a half hours of talk about options for budget cuts in Lawrence schools, including fewer secondary school courses, more students in elementary classes, fewer positions, and even closing some elementary schools.
"It made clear just how bad every choice is out there," school board President Scott Morgan said.
Board members heard cost estimates during a televised study session Tuesday as they look for ways to close a budget deficit of $4 million, which likely will stretch to $5 million.
The state budget crisis has decreased base state aid per pupil, and the district recently learned the cost of its health insurance program will increase by about $1 million for next year, Superintendent Rick Doll said.
"Having spent a lot of time looking at this, the end result is that school will look very different in August of 2010 than it does today," said Kim Bodensteiner, chief academic officer.
Administrators spent the study session presenting estimates on savings in areas such as eliminating administrative and classified staff positions and certain programs. They also saw projections on scenarios such as shifting boundaries to put students in elementary schools that have more space.
Chief Operations Officer Frank Harwood presented how much it would save per school to close Quail Run, Wakarusa Valley, Sunset Hill, Hillcrest, Pinckney, Cordley or New York schools. Harwood chose those schools for the scenario because he didn't have specific direction from board members on which ones to look at.
Advocates against closing elementary schools criticized the options for only including an estimated $250,000 cut among district administration.
"At the same time they targeted millions of dollars against elementary schools and in particular elementary schools serving low-income and minority kids on the east side of town," said Chuck Epp, a Cordley School parent and member of Save Our Neighborhood Schools.
Board member Mark Bradford said the budget crisis would force the district to look at being efficient.
"The things we have been accustomed to in our neighborhood schools we simply can't afford anymore," Bradford said.
Morgan said board members will have to work toward reaching a consensus on the cuts in coming weeks. In another wrinkle, he said some board members now want the board to consider school reconfiguration — moving sixth-graders to middle schools and ninth-graders to high schools — for this fall instead of next year as originally planned.
Budget Cut Options
On Tuesday, school district administrators were presented a long list of possible cuts with savings estimates. A few examples:
• Cost savings for closing various elementary schools: Quail Run, $648,448; Wakarusa Valley, $474,967; Sunset Hill, $573,662; Hillcrest, $572,137; Pinckney, $469,357; Cordley, $447,785; and New York, $536,341.
• Reducing 5.6 percent of district administration and support: $250,000.
• Cutting elementary counselors by five full-time positions: $267,120.
• Eliminating three full-time learning coach positions: $160,905.
• Dropping from 12 full-time school nurses to seven: $222,369.
• Increasing the student-teacher ratio by one student reduces the need for 20 K-12 teaching positions, while by four students it would be about 79 fewer positions.
Copyright 2018 The Lawrence Journal-World. All rights reserved. This material may not be published, broadcast, rewritten or redistributed. We strive to uphold our values for every story published.