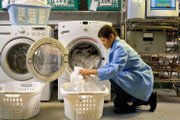 If it seems you're always doing laundry, join the club. But here's a real brightener: The price of many washers has dropped by as much as 33 percent compared with a year ago, according to Consumer Reports.
In months of testing, CR found that many washers are very energy- and water-efficient, which can save you money in the long run. Energy Star models might also qualify for a rebate of up to $250 under the federally funded State Energy Efficient Appliance Rebate Program, also known as Cash for Clunkers for Appliances.
CR's tests of 76 models also revealed some problems. The $600 LG WM2010C front-loader moved several inches during testing. Its SpinSense option, which is designed to help reduce or eliminate vibration, kept the machine in its place but extracted about 20 percent less water, so the laundry took longer to dry. Despite its new Sound Silencer Plus technology, the $500 Frigidaire FTW3014K top-loader was pretty noisy. It was also a mediocre performer.
Washers have become more efficient, but dryer technology hasn't changed dramatically in the past decade. The Department of Energy says that most use about the same amount of energy; that's why there are no Energy Star models, and state rebates won't apply.
For front-loaders, CR Best Buys were the GE WCVH6800J ($750) and the Frigidaire Gallery GLTF2940F ($650), and for top-loaders, the GE WJRE5500G ($480). For dryers, CR Best Buys included the Kenmore Elite Oasis 6703 ($680); the LG DLE2516 ($700); and the Kenmore 800 Series 6982 ($510).
Here's what else CR found:
• Hidden costs uncovered. Most top-loaders that cost less than $500 didn't wash as well, used more energy or water, couldn't hold as much, or were tougher on laundry than more expensive models. And an inefficient machine can cost an added $130 or more to operate per year than the most efficient models. The $330 Estate ETW4400W, a conventional top-loader, frayed fabrics, earning it a poor rating for gentleness. The $750 Whirlpool Duet Sport HT WFW8400T front-loader scored only fair for gentleness.
• Special cycles multiply. First there were allergy cycles and steam settings. Now there's Whirlpool's FanFresh and Maytag's Fresh Hold. Both are supposed to help prevent the odor that can develop when you leave clean laundry in the washer for too long. CR left laundry, including loads of heavy plush towels, in those and other machines for up to two days — and none of the laundry developed an odor, whether the feature was used or not. The Maytag and Whirlpool were fine washers.
Mold problems persist. Readers told CR about mold and odors developing in their front-loaders. CR's Annual Product Reliability Survey found that 8 percent of front-loader problems were caused by mold or mildew. LG and Maytag front-loaders were slightly more susceptible than most brands surveyed.
How to choose
If your laundry room is near living spaces, check CR's noise and vibration ratings and look for models that let you silence end-of-cycle signals. Remember that concrete floors can absorb vibrations well, unlike wood-framed floors. Then consider:
Top- or front-loader? Most top-loaders with a center-post agitator cost the least and wash the fastest. But they aren't stellar performers and they use more energy and water. Front-loaders generally use the least water and spin even faster, making them the most efficient, capacious washers.
Focus on features. An auto temperature control blends hot and cold water to provide a consistent temperature and wash performance on a given setting. Manufacturers claim that steam settings and allergen cycles clean better and remove most allergens. But to kill allergens such as dust mites, wash water needs to be around 127 degrees F for 12 minutes. Reduce your exposure to allergens by vacuuming frequently and covering mattresses, box springs and pillows with dust mite-proof covers.
Skip extended warranties. CR's surveys show they're usually not worthwhile.
Copyright 2018 The Lawrence Journal-World. All rights reserved. This material may not be published, broadcast, rewritten or redistributed. We strive to uphold our values for every story published.