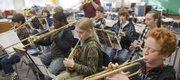 With a $4 million budget deficit growing to $5 million, the likelihood of school closings seems to be increasing.
Members of Save Our Neighborhood Schools are organizing for Saturday a rally and march down Massachusetts Street.
The group formed in December to advocate for keeping classes going at all 15 Lawrence elementary schools. The school board faces a $4 million budget deficit for next year's general fund budget, and closing schools is one of the proposals to try to narrow the gap.
A rally will begin at 11 a.m. at Liberty Hall, 644 Mass. T-shirts, yard signs and supplies for making posters for the march will be available, said Jessica Beeson, a march organizer and parent of a Cordley School student.
Organizers are trying to get representatives from every elementary school to participate in the noon march from Liberty Hall south to South Park.
Copyright 2018 The Lawrence Journal-World. All rights reserved. This material may not be published, broadcast, rewritten or redistributed. We strive to uphold our values for every story published.