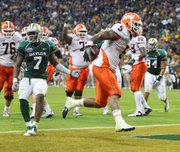 Mikel Leshoure isn't sure whether he'll declare for the NFL Draft or return to Illinois for his senior season.
But if Wednesday night's Texas Bowl ends up being his college send-off, it will certainly be remembered as a good one.
Leshoure ran for 184 yards and a career-high three touchdowns and set five school records as Illinois earned its first bowl victory since 1999, beating Baylor, 38-14.
The Illini spoiled the Bears' first bowl appearance in 16 seasons. Both teams finished at 7-6.
Leshoure had a five-yard TD run in the second quarter, a 13-yard score in the third quarter and another five-yard TD run in the fourth period.
The performance gave him school records for single-season rushing yards (1,697), single-season scoring (122 points), total touchdowns in a season (20), 100-yard rushing game in a season (9) and consecutive 100-yard rushing games (5).
"I can't even really put it into words," he said. "First of all winning and ... now that it's the end of the season, and I found out I broke those records, it feels good. I'm proud of myself, and I'm proud of my teammates and coaches."
The Illini built a 24-0 lead, and Leshoure's last touchdown put the game out of reach.
Illinois coach Ron Zook was informed late in the game that Leshoure needed 23 yards to set the rushing record.
"All we had to do was tell the offensive line and (quarterback) Nathan (Scheelhaase) that ... and they did the rest," Zook said.
Baylor's Robert Griffin III threw for 306 yards and a touchdown, but his two fumbles in the first half put the Bears behind.
Baylor coach Art Briles couldn't focus on the strides his team made this season in finishing with its first winning record since 1995.
"It's hard right now. It really is," he said. "Anytime you don't get the result that's desired, it doesn't feel good. It's a bad feeling. It's a bad feeling to have your face turned red."
Leshoure was chosen the most valuable player and wore a cowboy hat as he hoisted the trophy above his head after the game while the small but vocal group of Illinois fans cheered. He kept the hat on when he spoke to reporters after the game.
"I like the hat," he said grinning. "It's my first cowboy hat. I'll use it as a souvenir, and I might wear it out sometime."
Copyright 2017 The Associated Press. All rights reserved. This material may not be published, broadcast, rewritten or redistributed. We strive to uphold our values for every story published.