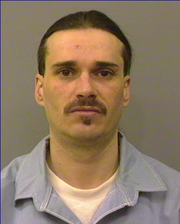 LARNED — A man convicted of sex crimes against children is on the run after escaping from the Larned State Hospital.
Hospital spokesman Cory Turner says 41-year-old Bruce Franklin Burns escaped during a Wednesday afternoon sexual predator treatment program. Pawnee County authorities say the search for Burns continued Thursday.
Burns is 5-foot-10 male of American Indian descent, with brown eyes, long brown hair and facial hair. He was last seen wearing a navy blue jacket, khaki pants, black shoes and a navy blue ski cap.
The Hutchinson News reports that Burns was sent to Larned after serving prison terms for 1997 crimes of aggravated criminal sodomy of a child under the age of 14 and aggravated indecent liberties with a child under the age of 14. His convictions came in Wyadotte County.
Copyright 2018 The Associated Press. All rights reserved. This material may not be published, broadcast, rewritten or redistributed. We strive to uphold our values for every story published.