Travel, variety and adventure have featured large in David Gaus' life. They've given him an education beyond schooling, led to romance, love and marriage in Japan, and given him a deeper appreciation of familial ties and life in Lawrence.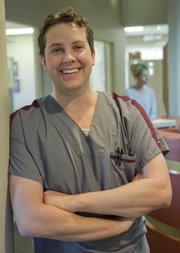 Born in New Hartford, N.Y., in 1983, he lived in three states before arriving in Lawrence in 1991.
"It was hard having to say goodbyes," he admits. "The constants wherever we went were Cub and Boy Scouts, and music."
He played the saxophone, and, like his three brothers, earned Eagle Scout honors.
Gaus graduated from Free State High School in 2001, then enrolled at Kansas University to study music performance. Wanderlust struck. He participated in a study abroad program in Spain, left KU, and enrolled in a culinary arts program in Vancouver, Canada, in 2003.
"I promised my parents I'd return and finish my formal education one day, but I don't think they believed me," he says.
After completing his culinary course, Gaus traveled around Quebec and Europe, worked as a chef in various hotels, and, true to his promise, returned to KU and graduated with a Bachelor of Arts degree in anthropology in 2006. To obtain a minor in European studies, he returned to study in Europe.
"The anthropology course at KU was wonderful and opened my eyes to other cultures and ways of doing things," he says.
"I had wonderful experiences overseas, but after more than 10 trips and stays in Europe I tried to lead myself away from the western world," Gaus says. "I wanted a better picture of the rest of the world and to immerse myself in other cultures. I thought Japan would be a great stepping stone for eastern Asia."
In late 2008 he set off to teach English in Japan with little knowledge of the country's language or culture.

"I walked off the plane in Tokyo alone and into a world where I was illiterate," Gaus says.
"I had to work hard just to get to a pre-school reading level."
While studying for his Japanese proficiency test in west Tokyo, Gaus visited a bar frequented by American military personnel.
"I studied from a large stack of study cards with Japanese words, and it was soothing to hear English spoken in the background," he says.
A Japanese woman and her Chinese girlfriend, Dan Dan, who spoke fluent Japanese, interrupted his cramming.
"I threw out those Kanji note cards and grammar books and never picked them back up after that first conversation," Gaus says.
"Dan Dan and I dated furiously and married in early 2009."
They returned to the U.S. for their son Theodore's birth at Lawrence Memorial Hospital.
Gaus is enjoying fatherhood, works in his father's dental business and is studying for a master's in business management of information systems.
"I'm still learning and growing," he says.
"My paradigm has shifted from 'me in the driver's seat with passion as my direction and versatility as my exhaust' to focusing more on Dan Dan and Teddy and their needs."
Copyright 2018 The Lawrence Journal-World. All rights reserved. This material may not be published, broadcast, rewritten or redistributed. We strive to uphold our values for every story published.