Although I'm exhausted from so many holiday parties and get-togethers, New Year's Eve has always been one of my favorite celebrations. Lawrence fills up with visiting relatives and old, familiar friends, and for a week or so every bar feels like the most fabulous high school reunion. So despite your plans for December 31st, say fare thee well to a wonderful decade and welcome in a new one—spend your New Year's Eve dressed to the nines, looking sharp and celebrating with all of your closest friends.
True Romance:
On a day made for exuberance and decadence, break out your fashion knowledge and amp up your personal style. Make a statement by wearing a dress with an unusual neckline or add a dramatic, chic cover-up to your outfit. Think off-the-shoulder blouses, one-shouldered tops, oriental-style button-ups, open-back dresses, capes, wraps, and shawls. Such an unusual, beautiful dress will make you stand out, even if you are one of many women clad in a LBD. For dramatic, romantic style inspiration, see lines by 3.1 Phillip Lim, Givenchy, and Richard Nicoll.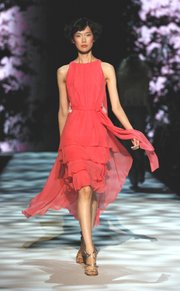 Bold Beauty:
Start New Year's Resolutions early and try something new! Break out of your color comfort zone. Pick out a bright dress or assemble a monochromatic outfit in a new hue! Wear turquoise, the trendiest color of 2010, and reminisce on good times, or break out a new, breathtaking honeysuckle/magenta colored dress. You will be up-to-date and fashion forward, as honeysuckle has been pronounced the color trend for 2011. Can't do either one? Look regal in a statement-making, luscious red dress.
Astounding Accessories:
If you're looking to save your pennies, skip out on buying a New Year's Eve outfit. No matter the occasion, when my friends want to look chic and they're in a crunch—be it time or money—I always promote dressing head-to-toe in black. Regardless of the situation, the color black will look sophisticated and polished. I know an all-black New Year's Eve outfit sounds like a snore, but it will provide you a fabulous backdrop, perfect for showcasing brilliant necklaces, high-heels, or other eye-catching accessories.
My final New Year's Eve tip is one I offer every year: Wear red underwear! Wearing red undies is an old tradition, meant to bring good luck to whomever pulls them. If you're hoping for love, health, and happiness in 2011, what could it hurt? We all could use a little luck here or there!
Copyright 2018 The Lawrence Journal-World. All rights reserved. This material may not be published, broadcast, rewritten or redistributed. We strive to uphold our values for every story published.