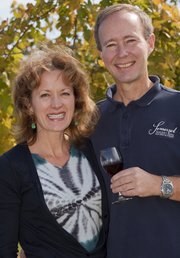 Jefferson Cup winners from Kansas
• Bluejacket Crossing Vineyard & Winery Seyval , Eudora
• Somerset Ridge Traminette Oktoberfest 2009, Miami County (south of Kansas City)
• Holy-Field Vineyard & Winery Chambourcin, Basehor
• Holy-Field Vineyard & Winery Vignoles Late Harvest, Basehor
• For more information and other winners, see the Jefferson Cup Invitational site.
In the past, Kansas has not always been named among the great wine regions of the world — or even of the United States. But a few regional vineyards and wineries, like Somerset Ridge, owned and operated by Kansas University alumni Dennis and Cindy Reynolds — are working on changing that.
"We're behind," Dennis Reynolds says. "But we're rapidly catching up."
Indeed, 2010 was a good year for Kansas wine. Somerset Ridge Vineyard & Winery, Paola, was one of three Kansas wineries this year to win a Jefferson Cup, the highest level of honor at the annual Jefferson Cup Invitational Competition in Kansas City, Mo. The Reynoldses started Somerset Ridge in 1998, and this was their first year to receive an invitation to join the competition.
"It was great to be invited to participate," Cindy Reynolds says. "We weren't expecting, necessarily, to win — it was a huge day."
In November, sommeliers judged hundreds of wines from around the country, awarding the Jefferson Cup to just 20 — each recognized in a different category. Californian wines traditionally dominate the competition, but this year 14 of the Jefferson Cup winners were from other regions of the U.S.: New York, Ohio, Missouri and Kansas.
Somerset Ridge won the prize for Best Non-Vinifera White with its Oktoberfest wine. Oktoberfest is a traminette, a type of American hybrid closely related to German wine grapes. Dennis Reynolds says the traminette is an excellent grape for this area, and in the Oktoberfest it makes for a very appealing flavor.
"It's an opulent, spicy flavor palate," he says. "It makes a sweet, German-style wine. The last two harvests have been very good."
Cindy Reynolds says Kansas is "fantastic" for growing grapes. One reason is the favorable latitude, which Kansas shares with some of the most famous wine regions in the world, such as those in the south of France, Spain and Italy. Dennis Reynolds also points out that our area enjoys good sunlight during the growing season and soils rich in limestone.
"We had a spectacular growing season this year," Cindy Reynolds says. "We had very early rains in April and a late heat at the end of the season that really helped super-ripen the grapes."
Somerset Ridge is not the only local winery that won a Jefferson Cup in its first appearance at the competition. Bluejacket Crossing Vineyard & Winery, 1969 North 1250 Road, Eudora, also won a Jefferson Cup this year for its Seyval wine.
"We're overwhelmed," says owner and operator "Pep" Soleberg-Selvan. "It's really amazing."
He attributed the success of the Seyval partly to a particular wine tank that he has been using since he founded the winery in 2002.
"That tank is really tight, and to keep the nose on a wine is critical," he says. "The Seyval had a really nice aroma."
Soleberg-Selvan says other area wine makers, like Les Meyer and his daughter, Michelle Meyer, of Holy-Field Vineyard & Winery, had been instrumental in helping him learn the craft.
Of the three Kansas wineries that won Jefferson Cups this year, Holy-Field, 18807 158th St., Basehor, is the oldest and most established. The Meyers planted their first grapevines at Holy-Field in 1986 and won a Jefferson Cup for a Cynthiana wine in 2004. They also have won in previous years for Tailgate Red and Late Harvest Vignoles. This year, Holy-Field won two: one for their Chambourcin and one for their Vignoles.
"It was a very good year," Michelle Meyer says.
Copyright 2018 The Lawrence Journal-World. All rights reserved. This material may not be published, broadcast, rewritten or redistributed. We strive to uphold our values for every story published.