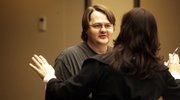 A Douglas County judge Wednesday afternoon ordered 43-year-old Lawrence resident Raymond Stockton to serve at least 49 years in prison after he was convicted of raping a girl between 2004 and 2007.
"What I did see of Mr. Stockton and his discussions with the police is that when he finally admitted to what he had been doing and he admitted what he had done, he tried to downplay it," District Judge Sally Pokorny said before handing down the sentence. "And he even made it sound like many of these acts occurred because of the actions of the victim."
A jury in September convicted Stockton on three counts of rape of a child younger than 14 and one count of aggravated indecent liberties with a child.
His defense attorney, Angela Keck, asked Pokorny to give her client a 13-year prison sentence with the opportunity to receive treatment. The defense had argued that Stockton suffers from dissociative identity disorder because of sexual and physical abuse he suffered as a child.
The defense said the disorder caused Stockton to have an alternate personality named "Marcus" who is a pedophile.
But Pokorny said Wednesday that a defense at the trial only blamed the alternate personality for causing him to confess to the crimes.
During the sentencing Wednesday, Stockton's family members asked Pokorny to give him leniency so he could get treatment.
"This is a family that has obviously been significantly damaged," said Amy McGowan, chief assistant Douglas County district attorney. "It is a family that has continued to be in great pain, but all of that is a result of Raymond Stockton's actions."
During the trial, prosecutors said Stockton confessed in an interview with police to raping the girl. The girl was between the ages of 11 and 14. The victim also had recanted her story and had to be compelled to testify.
Of the two longest sentences, Pokorny ordered Stockton to serve 49 years in prison for one of the rape counts, but she also gave him 25 years to life in prison on a second rape count because the crime occurred after the state enacted Jessica's Law, which gives harsher sentences to sex offenders who prey on children.
Pokorny ruled that Stockton could serve the sentences concurrently and that he must register as a sex offender for life if he's ever released.
Copyright 2018 The Lawrence Journal-World. All rights reserved. This material may not be published, broadcast, rewritten or redistributed. We strive to uphold our values for every story published.