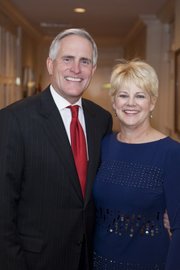 Three couples with strong ties to Kansas University are tasked with leading an upcoming capital campaign that will seek to raise private funds to support KU.
Kurt and Sue Watson, of Andover, will serve as steering committee chairs. Kansas Gov. Mark Parkinson and his wife, Stacy, of Topeka; and Tom and Jill Docking, of Wichita, will all serve as co-chairs of the committee.
Kurt Watson is president and CEO of IMA Financial Group in Wichita. Sue Watson is a past chair and current member of the executive committee of the Board of Directors of the KU Alumni Association.
In January, Mark Parkinson will become the president and CEO of the American Health Care Association and National Center for Assisted Living in Washington, D.C. Stacy Parkinson is an attorney.
Tom Docking is a former Kansas lieutenant governor and Wichita attorney. Jill Docking recently served as chairwoman of the Kansas Board of Regents and works in Wichita as a financial adviser.
All six received degrees from KU.
Together, they will lead a group of alumni and supporters who will serve as the public face of the fundraising effort.
Kurt Watson said that he and his wife were "honored" when Chancellor Bernadette Gray-Little asked them to lead the effort.
"We really look forward to the challenge," he said. "We want this to be transformational, and to help the university have the resources it needs to compete nationally and internationally. The importance of this cannot be overstated."
The chairs and co-chairs of the committee will be tasked with recruiting new members, and eventually, to establish a fundraising goal and to name the campaign.
Those are two fairly important tasks, Watson said.
The campaign will look to raise money for KU in a variety of different ways, from student scholarships, to endowed professorships, to support for research for important initiatives like the KU Cancer Center's quest for NCI designation, Watson said.
And, actually, the campaign has been rumbling along now for some time — it's been in a "silent" planning and fundraising mode since mid-2008, Watson said.
The steering committee will also work with key university leaders to establish fundraising priorities in the coming months, leading up to a public kickoff event — something Watson said may not happen until 2012.
Copyright 2018 The Lawrence Journal-World. All rights reserved. This material may not be published, broadcast, rewritten or redistributed. We strive to uphold our values for every story published.