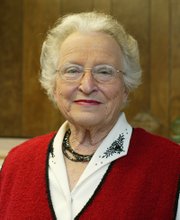 Tonganoxie — For more than a quarter of a century, Mildred McMillon's had her finger on the pulse of education.
Now, the 83-year-old Tonganoxie resident says she'll end her official public service when her term on the local school board concludes in June.
"After 27 1/2 years I'm ready to hang it up," she said.
She's not spent all of those 27 years on the Tonganoxie board. In fact, during her third term on the local board — back in 1986 — she ran successfully for the Kansas State Board of Education. In the late 1990s, after her husband, Pete, became ill, McMillon left the state board. He died in 2004.
Soon after, McMillon decided it was time to return to public service and rejoined the Tonganoxie board in 2007. She plans to complete her current term, but won't seek re-election.
"We need younger people," she said. "I just don't think four more years added to my age now I would be as competent as somebody younger."
She also cited health issues. She said being part of school activities was important for a board member.
"Walking is not a part of my good speed right now," she said, adding, "long as I'm sitting, I can sit all day."
She has some advice for anyone interested in serving on a school board.
"I just feel as though your endeavors are targeted toward kids and you keep them in utmost importance," McMillon said. "If you have a vendetta to get someone fired, stop progress, I think you've got the wrong attitude."
Copyright 2018 The Lawrence Journal-World. All rights reserved. This material may not be published, broadcast, rewritten or redistributed. We strive to uphold our values for every story published.