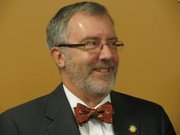 Topeka — Kansas Senate Republicans on Monday elected a new majority leader who said that repeal of the recent sales tax was a bad idea, and that higher education would probably not see an increase in funding.
Sen. Jay Emler, R-Lindsborg, was elected without dissent and without opposition by his fellow Republicans, who hold a 32-8 advantage over Democrats in the Senate.
Asked about upcoming legislative budget battles, Emler, who has served as chairman of the Senate budget committee, said the state spending plan for next fiscal year will be "austere."
Emler also serves on the transition team of Gov.-elect Sam Brownback, a Republican who will take office Jan. 10 at the start of the 2011 legislative session.
Budget experts forecast an approximately $500 million revenue shortfall, primarily because of the expiration of federal stimulus funding.
Despite the dire revenue projections, some Republicans have called for repeal of the 1-cent increase in the state sales tax rate, which was approved last session and went into effect July 1.
But Emler said repeal of the levy would make matters worse and deepen the budget deficit by another $300 million. Brownback has also spoken against trying to repeal the increase.
Emler also said he doubted higher education would get an increase in funding.
"It simply doesn't exist," Emler said of the revenue.
After two years of cuts totaling more than $100 million, the Kansas Board of Regents have submitted a plan to increase higher education funding by $50 million. The proposal would require approval from legislators and Brownback.
As majority leader, Emler will set the Senate's debate schedule and run party caucus meetings.
Emler, an attorney who has been in the Senate since 2001, said he would try to unite the sometimes divided caucus. He replaces Derek Schmidt, R-Independence, who was elected attorney general. Sen. Terry Bruce, R-Hutchinson, had considered running for majority leader but bowed out of the race last week.
Senate President Steve Morris, R-Hugoton, said he was glad Emler decided to take the position.
"Jay Emler has the experience and knowledge to be an effective and efficient leader of the Republican caucus," Morris said.
The newest member of the GOP caucus, Sen. Chris Steineger of Kansas City, Kan., attended Monday's meeting. Steineger switched from the Democratic Party last week.
On Monday, Sen. Carolyn McGinn, R-Sedgwick, was made chair of the Senate Ways and Means Committee, taking Emler's place.
Copyright 2018 The Lawrence Journal-World. All rights reserved. This material may not be published, broadcast, rewritten or redistributed. We strive to uphold our values for every story published.