Photo Gallery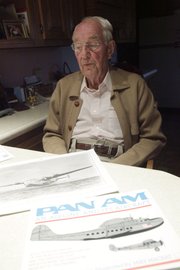 Jack Leftwich, 93-year-old pilot
Jack "Lefty" Leftwich, 93, of McLouth, has been flying for 70 years. Most of his career was spent with Pan Am, and for a portion of it he flew seaplanes in the South Pacific during World War II. Now he flies his ultralight plane on nice days.
Jack Leftwich strapped on a helmet and got into the open cockpit of a biplane. He was 15, it was his birthday, and he wanted to ride in a plane. The pilot took off, heading north out of Fairfax Airport in Kansas City, Kan. The plane got about 200 feet in the air when Leftwich heard a horrendous crash.
"I remember being knocked violently to one side of the cockpit and was momentarily stunned," he recalls. "Then I remember the second impact as we hit the ground."
A second plane had been flying into the sun and collided midair with theirs. Three of the four people in the crash survived. Leftwich was lucky to come away with only a lifelong scar on his scalp, but the accident didn't leave a scar on his love for flight.
Jack "Lefty" Leftwich, a rural McLouth resident, has led a storied life, much of it hundreds of feet in the air in various airplanes. He flew for Pan Am during World War II and had a decades-long career with the company. Seventy years after beginning as a pilot, at 93, he continues to fly, taking his ultralight aircraft out on his personal airstrip on summer days.
Flying career takes off
Leftwich said his interest in aviation began as early as he could remember, and as a 7-year-old boy he would ride his bike to the nearby airport and watch the planes.
When he visited his grandmother's farm south of McLouth, he would climb a tree in the backyard, tugging along a board with nails pounded into it. Each nail represented some instrument in the cockpit of an airplane.
"I would climb up in the tree and I would look off into the distance, and I would pull these nails around on this board as if I were flying," he said. "Now how about that for a hangup?"
That love continued until his accident, but his first trip in a plane afterward almost scared him away. He had saved money for another flight, and when the pilot was taxiing to take off, he heard the fabric of the fuselage hitting the metal frame.
"I was absolutely petrified. I didn't know if I would be able to continue or not," he said. "It just brought back all the memories."
But continue he did, and in 1940 he began taking flying lessons in a small Piper Cub. When the United States entered World War II, he enrolled in the Civilian Pilot Training Program, which trained people to fly to fill the spaces left vacant by pilots joining the military.
At the end of his training, he was assigned to fly for American Airlines, but requested to transfer to Pan Am, and thus began his career flying all over central America and the South Pacific.
'A job to do'
Leftwich, later nicknamed "Lefty," was originally based in Brownsville, Texas, and flew routes south through Central American countries to Panama and back in a large DC-3 aircraft.
In 1943, he transferred to San Francisco and started flying sea planes, which were vastly different from both the plane he originally took lessons in and the plane he was flying south. Water landings in particular were a new experience.
"It's a whole different world," he said. "Imagine coming within a year and a half from the Piper Cub to the DC-3 to this aircraft."
Leftwich said he would fly one plane, a Boeing 314, from San Francisco to Honolulu, then switch to the Martin PBM3R airplane for his flights into the South Pacific. As first officer on these flights, Leftwich knew they were transporting medical supplies, items vital to the war effort and important people, but not many details beyond that were revealed.
"Much of it was unknown to us because as we boarded the aircraft, the cargo was covered entirely," he said. "It was not really accessible to determining what it was. It wasn't really any of our business anyway."
Leftwich and the crew would fly southeast, landing on water runways near a network of runways in the Pacific Ocean. He flew three different routes, some taking almost four days to travel. The trips would end in Australia, New Caledonia or Espiritu Santo, the closest to warfare they went.
The trips weren't entirely disaster-free. Leftwich once lost an engine between the Palmyra atoll and Kanton Island. Another time, a plane went down in Funafuti when the airplane hit the mast of a ship, and some crew members died.
The tiny islands and runways made from coral were a far cry from Kansas City neighborhoods, but Leftwich said that's just how it was during the war.
"In wartime, people's lives changed fast. People's activities changed rapidly," he said. "We had a job to do, and we did it as best we knew how."
After the war, Leftwich transferred to Miami and became a captain eight years later. In 1960, he transferred again to Berlin, where he piloted flights that connected the city to seven other towns in West Germany.
Family loves flying
In 1977, Leftwich retired after 35 years with Pan Am. Three years later he moved back stateside and returned to McLouth, his roots.
He didn't totally give up flying, though. Leftwich found a place with enough space for a 1,600-foot-long grass airstrip, and he keeps an Eipper Sprint ultralight airplane in a hangar next to his house. His son and grandson, who both work for Gulfstream and share Leftwich's love of airplanes, will visit and talk airplanes with Lefty.
"They all three are very smitten," said Leftwich's wife, Sherry. "When they are together, it's all they talk about."
The airplane, which has no enclosed cockpit and what Leftwich calls "fresh ventilation," is something the three can bond over.
"It doesn't fly very fast, but it goes up," Leftwich said. "We now have a funny flying machine for family and friends' enjoyment."
And despite nearing the century mark in age, he has no plans to step out of the cockpit any time soon.
"I will stop when I can't any more," he said.
Copyright 2018 The Lawrence Journal-World. All rights reserved. This material may not be published, broadcast, rewritten or redistributed. We strive to uphold our values for every story published.